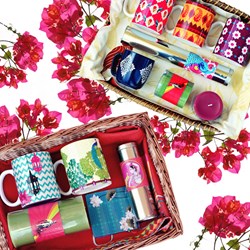 (PRWEB) October 16, 2013
This festive season IndiaCircus, the home-décor, lifestyle and personal accessories label, headed by the brilliant Krsna Mehta reveals its latest collection of products. Keeping in mind the festive fervor, these products are bright and colourful and would also make for amazing gifts. This collection has items such as iPad sleeves, Mini iPad/tablet sleeves, iPhone covers, sling bags, multi-utility bins and tableware such as runners, mats and coasters.
These new products add that dash of fun and colour to otherwise mundane things. Personalising electronics just got easier with the new range of iPad sleeves; iPhone covers and tablet sleeves. These covers and sleeves are beautifully designed with eclectic patterns ranging from peacocks, funky slippers and minarets. These covers can definitely make a phone stand out and are a must buy.
Need something to fit stuff into? The latest collection of sling bags are not only eye-catching and trendy but they are also a great way to carry notebooks, wallets and all the other trinkets. Available in a host of bright and interesting colours and exciting designs, these bags are extremely eye catching.
Storage space in the house is always a necessity but that doesn't mean it has to be boring. The latest collection of multi-utility bins makes for a great way of storing things like newspapers and magazine without it getting too cluttered. Also beautifully designed with elegant patterns, these bins not only make for great storage but look good as well.