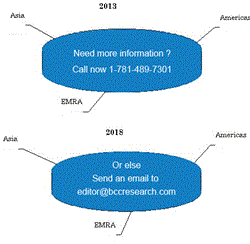 Wellesley, MA (PRWEB) October 09, 2013
As MRIs become a standard in diagnostic healthcare, the manufacturers of MRI equipment are finding that innovation, higher tesla strength, creating new applications for current equipment, and creating MRI systems that fit into the trend toward maximizing diagnostic equipment usage are the keys to expanded sales. The introduction of MRI technology to previously underserved populations outside of the U.S., Europe, and Japan also holds the promise of increased MRI system sales.
According to a new technical market research report, Medical Magnetic Resonance Imaging (MRI): Technologies and Global Markets from BCC Research (http://www.bccresearch.com), the global market for MRI systems was valued at $4.9 billion in 2012 and is expected to reach $5.4 billion in 2013. BCC Research projects this market to grow to $6.9 billion in 2018, and register a five-year compound annual growth rate (CAGR) of 5% from 2013 to 2018.
Innovation is occurring in both design of units and creation of new applications. The emergence of 3 tesla (T) units in clinical settings has provided the power to visualize anatomical structures with enhanced clarity and precision. Specialized coils and magnets have evolved to aid in finer image quality. These innovations have led to new clinical applications in neurology, cardiology, spinal, extremity, and breast areas.
In addition, reimbursement practices by both governmental and private insurers have driven MRI users to analyze their usage patterns and increase the use of MRI equipment to meet both customer demand and cost constraints. This increased utilization will provide manufacturers with expanded opportunities for providing newer equipment and enhanced after-sale assistance.
According to BCC Research, the key drivers of this market include a globally aging population, the continued rise in chronic diseases, access to healthcare by individuals who previously were underserved, and an expanding middle class in developing countries who are demanding better healthcare, including diagnostic tests.
As per the report, the forces hindering the MRI market include: the use of other diagnostic technologies (e.g., X-ray, ultrasound, CT, PET) that might be more cost effective; exploding health-care costs and government and payer efforts to restrain spending; physician reluctance to recommend MRI tests, particularly more expensive 3T tests; and lack of qualified personnel to conduct and analyze tests.
This new report from BCC Research provides a comprehensive overview of the global markets for magnetic resonance imaging systems. It presents descriptions of the trends and developments for each type of MRI technology and explains how each is meant to satisfy the needs of customers. This study also looks at market trends, with data from 2012, estimates for 2013 and projections of compound annual growth rates (CAGRs) through 2018. In addition, it examines the MRI business in terms of specific companies and their position in the market. Finally, this study explores the keys to continued growth in this industry.
The MRI market encapsulates current and potential products, related technologies, components and component suppliers, end markets, governmental and regulatory agencies, major companies competing in this market, relative market shares, and the impact of the worldwide market status.
This study of the competitive and evolving MRI industry will be beneficial to diagnostic industry participants holding marketing, management, and technical development positions. It will also benefit readers who are suppliers to this industry. Additionally, investors, venture capitalists, insurance companies, and those interested in various aspects of the MRI industry will find this report valuable.