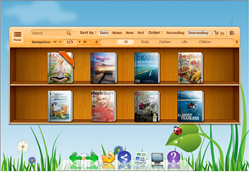 (PRWEB) October 08, 2013
3D Pageflip is a software company offering high quality flipbook tools. It recently launched its flip book software for Mac which is regarded as an ultimate tool for creating attractive and professional flip books.
With its realistic 3D effects, this amazing software can create realistic flash flip books on Mac computers. The software comes loaded with many useful features which assist users to create instant e-books. In addition to this, the software has several ready-to-use templates, backgrounds and sceneries to create professional books within minutes. It also allows users to add brand or company logo to the book. For easy creation of high quality e-books, magazines and brochures, this is a perfect software program. The CEO of the company says, "3D flip page software is absolutely a new idea in the whole industry. Now, we show our claimed value propositions right here and right now…3D PageFlip Professional is especially suitable for editors, publishers, and other 3D flash lovers. It lets users quickly review the motion and timing in an animation. You can also call one of our customer service representatives and they will explain more in details."
Its realistic page turning effect not only improves the optical effect of every page, it also engages the readers. The e-books, thus, are interactive where readers experience real book reading experience when they have to browse through the book by turning page by page.
3Dpageflip was founded in the year 2008. It specializes in digital media publishing tools and offers high end and cost effective flip book tools at very affordable prices.