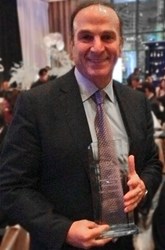 'I am honored to receive this award,' says Dr. Geronemus, 'and will continue to dedicate myself to clinical excellence in dermatological surgery and laser skin treatments.'
(PRWEB) October 09, 2013
Roy G. Geronemus, MD, of the Laser & Skin Surgery Center of New York, one of the largest and most comprehensive out-patient laser surgery centers in the world, received the highly prestigious Samuel J. Stegman, MD Award at the annual ASDS meeting on October 5th, 2013. The esteemed Stegman award honors those who have made substantial contributions to the advancement of the goals of the American Society for Dermatologic Surgery through a combination of education, organizational service, and research.
World renowned dermatologist Dr. Roy Geronemus is a pioneer in the field of laser treatments for skin conditions and disorders. Currently Dr. Geronemus serves as Director of the Laser & Skin Surgery Center, Clinical Professor of Dermatology at the New York University Medical Center, Chairman on the Board of Directors for the New York Stem Cell Foundation, and Attending Surgeon for the Department of Plastic Surgery at the New York Eye and Ear Infirmary.
"I am honored to receive this award," says Dr. Geronemus, "and will continue to dedicate myself to clinical excellence in dermatological surgery and laser skin treatments."
Dr. Geronemus has published more than 240 original medical articles in peer reviewed journals as well publishing several books and book chapters. His recent journalistic accomplishments include Lasers and Related Technology in Dermatology published by McGraw-Hill Publishers (2013) and multiple publications in the field of laser treatment of birthmarks.
Dr. Geronemus is well-known for his work in laser treatments and research. His practice, the Laser & Skin Surgery Center of New York, specializes in Botox, Fractional Laser Resurfacing, CoolSculpting, Tattoo Removal, Port Wine Stain Treatments, and Injectable Fillers. The American Society for Laser Medicine and Surgery awarded Dr. Geronemus with the Ellet Drake award for outstanding contributions to laser medicine and the Leon Goldman award for excellence in clinical laser research. He has been listed in New York Magazine's Best Doctors in New York 17 times, 10 times as one of the Best Doctors in America, and acknowledged as Allure magazines "Influencer" in 2013.