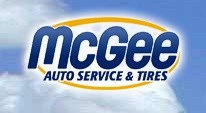 Lakeland, Florida (PRWEB) October 09, 2013
McGee Auto Service and Tire, Tampa's most-trusted tire store and auto repair center, will host their annual Business After Hours event, in support of the Lakeland Chamber of Commerce.
The event will take place Thursday, Oct. 17 from 5:30 p.m. until 7:30 p.m. at the McGee corporate office, located at 3939 Hwy. 98 S, Lakeland, FL.
Approximately 500-600 people from businesses all over the Lakeland, FL area are anticipated to attend this networking event. Guests will be treated to music and an assortment of refreshments, finger foods, barbecue, and hors d'oeuvres. Those in attendance have the opportunity to win several valuable prizes from McGee including tire coupons and oil changes.
"We are very excited to host this event and meet with other business professionals in the community," Mike McGee, president of McGee Auto Service and Tire. "We are also looking forward to the opportunity to tell folks a little more about McGee Auto and Tire and what we can do for them and their business."
The grand prize for the event, a Goodyear blimp ride for four, will be given away along with two Club Seat tickets to a remaining Tampa Bay Buccaneers game of choice, 10 free oil change certificates, and $200 in McGee Auto Service and Tire gift cards.
Guests will also have the chance to win up to $200 from the money machine. Contestants will attempt to catch as many $1, $5, and $20 bills as they can, from inside the machine, in one minute while a fan blows the bills around inside the locked box.
Every attendee will receive a $10.00 gift certificate towards any service and free alignment with the purchase of four tires. Other giveaways, upon check-in, include McGee cozies, pens, blimp erasers, and Goodyear hats.
For more information about this event, contact McGee Tire Store headquarters at (863) 667-3702 or the Lakeland Chamber of Commerce at (863) 688-8551. Online registration for the event is available through the chamber's website.
McGee Auto Service and Tire Centers combines their state-of-the-art technology with their fast and friendly customer service to produce unbeatable service and savings. McGee Tire Centers offer a large inventory of the top-name brand tires for cars, trucks, and SUVs. All of McGee's service centers from Tampa to Lakeland, Tallahassee to Clearwater and more, include fast, honest assessments on maintenance or repair by highly trained technicians. Visit mcgeetire.com for more details.