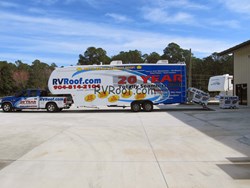 Green Cove Springs, FL (PRWEB) October 09, 2013
Throughout the month of October, RV Roof.com will be participating in several fall RV shows, giving RV owners unique opportunities to see first-hand how RV FlexArmor™ works.
In September, RV Roof.com was proud to have participated in America's Largest RV Show, held in Hershey, P.A. The show was a success with record attendance.
RV Roof.com will be visiting St. Augustine, F.L. from Oct. 10-13 for the St. John's Fall RV Show, sponsored by the Florida RV Trade Association. The show will take place at St. John's County Fairgrounds in Elkton. From Oct. 17-20, they will be in Atlanta for the Camping World/Good Sam Rally, held at Georgia's Atlanta Motor Speedway.
These two shows are the perfect opportunity for RV owners to come out and see the RV Roof.com exhibit, featuring a mock up camper roof. The mock up will show RV FlexArmor's™ sprayed, pure polyurea system, which was designed exclusively for RVs and eliminates the problems that occur with common elastomeric and paintable polymers. RV FlexArmor™ is guaranteed not to leak, as it covers all joints, screws and edges, is self-cleaning and reflective to reduce passenger compartment temperatures. Formulated by RV Roof.com owner, David Adair, RV FlexArmor™ is the result of his 20 years experience with spray coatings.
RV FlexArmor™ is the only RV roof system on the market with almost a decade of customer satisfaction. RV Roof.com is always looking for potential individual contractors, and receives many inquiries at shows from potential dealers wishing to join the RV Roof family of RV FlexArmor™ system applicators. Those interested may do so at one of the fall shows, or contact them at 904-814-2104.
For more information about the St. John's Fall RV Show, please visit: http://www.frvta.org/. For more information about the Camping World/Good Sam Rally, please visit: http://therally.com/.
About the Company:
See the difference RV Roof.com's 20 Year Sprayed Roof can make on RV roofs. Their sprayed roofing removes all the existing caulking joints on a current roof, and creates a seamless roof that no longer will leak around fixtures or roof edges. All screw holes, frames and edges are covered providing a durable, yet flexible roof for RVs. Contact them today at 904-814-2104 to schedule an appointment or visit their website for more information, http://www.rvroof.com/.