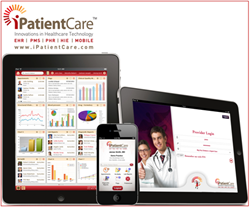 We have been busy helping Apple loyal physicians switching to miPatientCare because this is something what they were looking for all these years," John Bartley, MD, Chief Medical Director, iPatientCare, Inc.
Woodbridge, NJ (PRWEB) October 10, 2013
iPatientCare, Inc., a pioneer in mHealth and cloud-based ambulatory EHR and integrated Practice Management solutions announced the inclusion of iPatientCare as one of the innovative native iOS based product suite representing great potential to transform the healthcare from the way it is being practiced today.
i.Business Magazine, one of the leading publication known for its high volume of iOS user/industry analyst subscriber volume, reviewed and featured iPatientCare EHR on the Front Cover Page of its Issue # 17 - Medical Edition. "iPatientCare EHR on the native Apple platform is one of the most capable iOS based healthcare solutions for the physicians and other healthcare providers seeking solutions that work natively on iPad and iPhone. Most EHR solutions available on iPad work through Safari or a browser. Only a few are actually designed to work on native iOS to provide those familiar gestures and point-and-tap user interface of Apple tablets and smart devices. Among the ones which are available today, most provided very limited capabilities on iPad. However, iPatientCare is a clear departure from such first generation EHR. It is clearly a significant improvement and can easily be identified as an EHR for the GenNext!" exclaimed John Bartley, MD, Chief Medical Director, iPatientCare, who is himself an Apple fan.
Some of the important features identified by the i.Business Magazine are iPatientCare EHR's capabilities for customization and personalization. The layout and structure of the documentation can easily be adapted by iPatientCare users. They can build their own templates, protocols and orders. iPatientCare can even capture patient's signature for authorizations and consents.
"iPatientCare EHR is designed ground-up to work natively on iPad and iPad mini. miPatientCare EHR (pronounced as "my") fits in a physician's pocket and would be physician's companion for delivering better outcomes through all stages of the Meaningful Use. We have been busy helping Apple loyal physicians switching to miPatientCare because this is something what they were looking for all these years," commented Dr. Bartley.
Pranav Patel, General Manager at iPatientCare, said while elaborating on iPatientCare's mHealth strategy, "mHealth is an integral part of iPatientCare's product strategy. We had tremendous response from the healthcare provider community to our Labor Day-2013 Lucky Draw. Many reported their experiences on the Apple Store (https://itunes.apple.com/us/app/miehr/id568622727?mt=8) expressing their joy for finally having a product on their favorite Apple platform. We plan to host a grand lucky draw around the time holiday shopping season starts and give away tablets and smart phones based on iOS 7."
About iPatientCare
iPatientCare, Inc. is a privately held medical informatics company based at Woodbridge, New Jersey. The company is known for its pioneering contribution to mHealth and Cloud based unified product suite that include Electronic Health/Medical Record and integrated Practice Management/Billing System, Patient Portal/PHR, Health Information Exchange (HIE), and mobile point-of-care solutions that serve the ambulatory, acute/sub acute, emergency and home health market segments.
iPatientCare 10.8 is compliant with the ONC 2011 Edition criteria and was certified as a complete EHR in accordance with the eligible provider certification criteria. Full certification details can be found at https://www.cchit.org/show-onc-cert?certid=a055000000D3BH1AAN. iPatientCare 10.8 is also certified in CCHIT's separate and independently developed certification program and is a CCHIT Certified® 2011 Ambulatory EHR additionally certified for Child Health.
The company has won numerous awards for its EHR technology and is recognized as an innovator in the field, being a pioneer to offer an EHR technology on a handheld device, an innovative First Responder technology to the US Army for its Theatre Medical Information System, the first to offer a Cloud based EHR product. iPatientCare is recognized as one of the best EHR and Integrated PM System for small and medium sized physicians' offices; has been awarded most number of industry Awards; and has been recognized as a preferred/MU partner by numerous Regional Extension Centers (REC), hospitals/health systems, and academies.
Visit http://www.iPatientCare.com for more information.