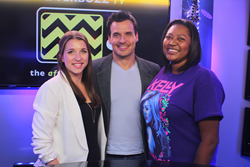 Los Angeles, CA (PRWEB) October 10, 2013
(http://www.afterbuzztv.com) Antonio Sabato Jr., who guest starred on Monday night's episode of Castle (ABC) titled "Need To Know," visited the AfterbuzzTV studios to recap the episode, opening up about an on-set tragedy.
Monday's episode follows the murder case of a former sitcom star killed as the rest of his Saved By The Bell-esque cast reunites for a movie. Sabato plays sitcom star "Ramon Russo," who throws his former costar off a building.
Text Box: Antonio Sabato Jr. with AfterbuzzTV Hosts Paige Sullivan (L) and Tiona Hobson (R) Sabato revealed that while shooting scenes for the show in Downtown LA, he and the rest of the cast were on site of a tragedy very similar to the script.
"When we got [to set] I see like massive police and fire department and I'm thinking 'Wow, man you guys got it hooked up'… Then I found out they are actually pulling a guy off the street who jumped… like I'm playing the guy that gonna do this for real and I get here and there's police here bringing this guy to the morgue.
"Me and Nathan [Fillion] and the rest of the cast …we were speechless…It was right there in front of us, the whole crew, and everybody was just staring across the street."
· LINK TO VIDEO: http://www.youtube.com/watch?v=WXXykEf0PXQ&list=PL6THzna6gLcdmfg3Tp_PkjBJ_REQ0qyo3&index=1
· LINK TO AUDIO (via iTunes Podcast): https://itunes.apple.com/us/podcast/castle-afterbuzz-tv-aftershow/id565036590?mt=2&ign-mpt=uo%3D4
For more on AfterbuzzTV and Antonio's interivew visit http://www.afterbuzztv.com. AFTERBUZZTV, founded by Extra Host Maria Menounos, is the world's largest online broadcast network producing recorded and live post shows for TV's top series. The network receives over 26 million hits a week from over 75 countries.