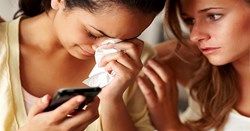 "This Movement against Bullying needs to gain more momentum and that only happens with sharing knowledge and experience and truly empowering children to stand up for their safety online and everywhere"
London, UK (PRWEB) October 09, 2013
Dr Neville Watson, a Clinical Psychologist who works within a Child & Adolescent Community Health Service (CAMHS), talks Today to NoBullying.com about Identifying Bullying.
Dr Neville Watson is a Clinical Psychologist who works within a Child & Adolescent Community Health Service (CAMHS). He also runs a Child & Family Clinical Psychology service called Bright Ideas Psychology, which offers psychological assessment and therapy for children, adolescents, young adults, and their families.
When asked about Bullying, Dr Watson said, "I would say yes for two reasons. The first is that I think it is more widely talked about so we have more awareness of it now. The second reason being the emergence of 'cyber bullying', which now means that bullying is no longer just predominantly 'face-to-face' but can occur anywhere at any time."
He describes potential consequences of Bullying as "a lot of the low mood, anxiety, difficulties with confidence/self-esteem that I see, stem from incidents of bullying. At times I have worked with children who have self-harmed following such incidents because they did not know how else to cope with the thoughts and feelings it caused."
Macartan Mulligan, Co-Founder of Treze, said, "We are thrilled about the vast array of experts in the field willing to share their knowledge and experience with us to combat bullying." He added "This Movement against Bullying needs to gain more momentum and that only happens with sharing knowledge and experience and truly empowering children to stand up for their safety online and everywhere."
Mulligan encourages experts from all over the world to join the Movement against Bullying by contributing to NoBullying.com via media(at)nobullying(dot)com.
He added that parents and teachers should make a point to educate the younger generations about the sad outcome of bullying online and off line.
NoBullying.com features many pages dedicated to parents, teens, teachers, health professionals as well as posts related to cyber safety and the latest news about law making concerning curbing Bullying worldwide as well as inspirational Bullying Poems and Bullying Quotes.
The website makes a habit of updating its bullying statistics and cyber bullying statistics regularly because it is essential to understand how widespread the bullying epidemic is.
He also added that anyone suffering from bullying in any form or way can always reach out to the team of NoBullying and they will be given advice on how to stand up to bullying or protect themselves online.
The founders of the website hope that viewers can truly learn about bullying definition as well as school bullying and workplace bullying and put a serious effort to making it stop by education and caution and not by violence. NoBullying.com is not a mere website but an actual movement against bullying.