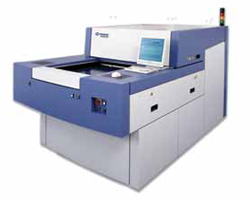 By partnering with Orbotech, we ensure the best production accuracy and cost of ownership. - Mr. Rick Wu, President of Career
Taipei, Taiwan (PRWEB) October 10, 2013
Orbotech Pacific Ltd., the Asia Pacific subsidiary of Orbotech Ltd., a leading global provider of yield-enhancing and production solutions for printed circuit boards (PCBs) and IC substrates, today announced that Career Technology (Mfg.) Co., Ltd. has selected Paragon™ laser direct imaging (LDI) systems for the production of flexible circuits designated for high-end consumer electronics.
This LDI purchase is part of a broader collaboration between the two companies aiming to expedite Career's investment in digital production tools for higher quality and productivity.
Commenting on the collaboration, Mr. Rick Wu, President of Career, said: "Utilizing Orbotech's advanced technology enables us to expand production capabilities to serve our most demanding customers as their requirements become more challenging. By partnering with Orbotech, we ensure the best production accuracy and cost of ownership."
Mr. Arik Gordon, President of Orbotech Pacific Ltd., said: "As a growing sector in the PCB market, flex offers important advantages for the production of today's thinner, lighter and more sophisticated electronic devices. Career is a leading flex circuit provider that has developed advanced processes and technologies to continuously increase its manufacturing productivity. As part of these capabilities, digital production has a critical role as an enabling solution for manufacturing complex designs in high volume. We appreciate very much Career's decision to select Orbotech as its vendor of choice."
About Career Technology (Mfg.) Co., Ltd.
Career is ranked as one of the world's top ten leading manufacturers of flexible printed circuits. The Company was established in 1992, listed in Gretai Securities Market and Taiwan Stock Exchange since 2002 and is headquartered in Shulin, Taipei. Currently, Career employs more than 10,000 employees around the world. A pioneer of dedicated FPC manufacturing, Career's main products include flexible printed circuits, rigid-flex and components assembly. Career has established manufacturing facilities in Kunshan, Suzhou and Shenzhen, China as well as set up branch offices in USA, Finland, Singapore, Hong Kong, Dongguan and Xiamen, China to provide customers with versatile and speedy service. For more information, visit the website at: http://www.careergroups.com.
About Orbotech Ltd.
Orbotech Ltd. (NASDAQ/GSM: ORBK) has been at the cutting edge of the electronics industry supply chain, as an innovator of enabling technologies used in the manufacture of the world's most sophisticated consumer and industrial products, for over 30 years. The Company is a leading provider of yield-enhancing and production solutions, primarily for manufacturers of printed circuit boards, flat panel displays and other electronic components; and today, virtually every electronic device is produced using Orbotech technology. The Company also applies its core expertise and resources in other advanced technology areas, including character recognition for check and forms processing and solar photovoltaic manufacturing. Headquartered in Israel and operating from multiple locations internationally, Orbotech's highly talented and inter-disciplinary professionals design, manufacture, sell and service the Company's end-to-end portfolio of solutions for the benefit of customers the world over. For more information please see the Company's filings with the U.S. Securities and Exchange Commission at http://www.sec.gov and visit the Company's corporate website at http://www.orbotech.com. The corporate website is not incorporated herein by reference and is included as an inactive textual reference only.