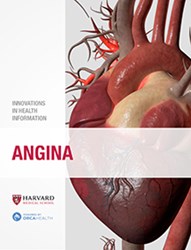 We think these iBooks set the standard for patient education—not only in the United States, but considering the reach of the iBookstore, around the world.-- Anthony L. Komaroff, M.D., Professor of Medicine, Harvard Medical School
Boston, MA (PRWEB) October 10, 2013
Need to know what happens in the heart when a heart attack is underway, how doctors open up cholesterol-clogged arteries, or how to cope with the irregular heart rhythm known as atrial fibrillation? The answer is a click away: a new series of interactive iBooks focused on the heart and heart disease just released by Harvard Health Publications, a division of Harvard Medical School, and Orca Health.
This series of iBooks allows users to view the heart in ways and detail they've never seen before. Using stunning interactive 3D animations powered by Orca Health, narrated videos, and content from Harvard Medical School, the books give users in-depth information about 10 common heart conditions and procedures. The topics range from angina and angioplasty to mitral valve prolapse and sudden cardiac arrest. All of the books are available for download on an iPad via iBooks or on a computer via iTunes. Use the keyword "Orca Health."
The ten iBooks mark the second major production from the partnership between Harvard Health Publications and Orca Health. In January 2013, they launched the HeartDecide app in the Apple App Store. Harvard Health and Orca expect to continue to co-develop additional apps, iBooks, and other patient education content.
"We set out to develop the best medical iBooks on the iBookstore, just like we've done with our Decide Series of patient education apps on the App Store," said Orca Health CEO, Matt Berry. "I think the end result, with its interactive 3D animation, videos, augmented reality, and multisensory learning, rivals any iBook on the iTunes Store—regardless of category."
The ten heart-focused iBooks are the first for either party and are a new foray into an uncharted digital patient education market.
"We think these iBooks set the standard for patient education—not only in the United States, but considering the reach of the iBookstore, around the world," says Anthony L. Komaroff, M.D., professor of medicine at Harvard Medical School and Editor in Chief of Harvard Health Publications. "The videos and animations explain some things better than just written words can do. And tapping a medical term lets you hear how it is pronounced, something the printed word cannot do. The iBook platform makes possible a truly new type of book."
For more information, contact:
Anthony L. Komaroff, M.D.
Harvard Health Publications
hhpmedia(at)hms(dot)harvard(dot)edu
617-432-2648
Matt Berry
Orca Health
berry(at)orcahealth(dot)com
650-804-6610