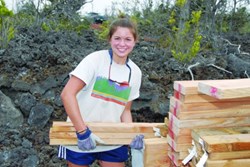 Wilderness Ventures began teaching zero-impact camping ethics years before the concept became the standard for all outdoor schools and it is proud of that legacy.
Jackson, WY (PRWEB) October 10, 2013
Veteran teen adventure travel outfitter Wilderness Ventures is setting the bar in educating young people on sustainable travel. Outfitting life-changing teen summer camps around the world, Wilderness Ventures offers students the opportunity to give back to global communities, reduce their carbon footprint and educate their peers on the importance of eco-conscious travel.
The company began teaching zero-impact camping ethics years before the concept became the standard for all outdoor schools and it is proud of that legacy. From its beginning in 1973, Wilderness Ventures has always been sensitive toward their potential environmental impact and the need to leave the world's natural wonders better than their travelers found them.
Teen Travel Service Projects
Giving back to the community and environment is emphasized on every Wilderness Ventures teen summer camp. The outfitters students' first service project in 1973 consisted of replanting shrubs and grass on the shores of Image Lake in Washington's Glacier Peak Wilderness. Since then, groups have taken on more comprehensive projects from improving habitat for endangered sea turtles in the Galapagos Islands to working on a farm promoting sustainable agriculture in Thailand to maintaining trails and fighting erosion in America's national parks. Today, every Wilderness Ventures group does their parts through important clean-up projects in the destinations they travel to.
Green Travel and Best Practices
As Wilderness Ventures has grown to offer more and more international teen summer camps, it has expanded its mission by teaching sustainable travel and the importance of supporting local communities and economies through our low-impact travel on foot, by small boats, and in small groups. Students traveling with this veteran outfitter are always welcomed visitors in foreign lands.
Since 1973, Wilderness Ventures has supported a variety of organizations dedicated to the sustainability of our planet and we encourage our students and families to support these and other organizations as well. A few of the groups the outfitter continues to support include The Cousteau Society, National Wildlife Federation, The Nature Conservancy, The Sierra Club, UNESCO World Heritage Centre, Sustainable Travel International, and the World Wildlife Fund.
Recycling and Carbon Footprint
In the field, all Wilderness Ventures groups are encouraged to initiate a recycling program. The office staff has implemented a recycling program of office products ranging from printing on recycled paper to recycling a variety of office products including paper and printing toner cartridges. The outfitter plans activities that require minimal driving to reduce vehicle usage and gasoline consumption and they purchase food in bulk to reduce unnecessary packaging.
About Wilderness Ventures:
Pioneering outdoor adventures for young adults and with more than 21,000 student alumni, Wilderness Ventures has paved the way for domestic and international teen adventure travel. Wilderness Ventures four decades of unwavering values of community, wholesome environments, safety, wilderness education, conservation, and exploration have resulted in an unmatched and trusted reputation.