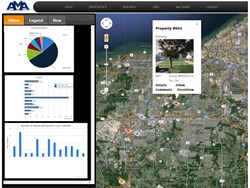 "We started out small and have grown to now operate in eight states, with a goal to be in 20 states by end of 2014. " - Aaron Amuchastegui
Sacramento, California (PRWEB) October 15, 2013
Aaron Amuchastegui, CEO of AMA Construct Inc., a leading real estate consulting group specializing in distressed assets, is pleased to announce that the company has started licensing its proprietary G.E.O.S. Trustee sale software to other house flipping companies across the county. AMA Construct Inc. has also launched its courthouse step auction bidding service throughout Northern California.
"We have traditionally been a house flipping company that managed investor assets. We started out small and have grown to now operate in eight states. Throughout our company's growth we have always run large operations while keeping overhead small by creating proprietary software and custom bidding systems," Amuchastegui says. "We have never bid for other investment groups before but with a full team in place – including the bidders, drivers, etc. – we can easily add new clients now."
The company's auction bidding service will be starting throughout Northern California counties. The service will provide property inspections, title research and a software bidding platform giving nearly real time updates to investors who would like to bid.
"Courthouse step auctions have traditionally been very risky and difficult to manage the overhead to make it worth it," Aaron Amuchastegui says. "Our proprietary software does GPS planning routes to save time and cost, delivers reports in easy to use formats, and is a robust CMS system tailored specifically for house flippers.
"Our expansion is due to the fact that, simply put, we've become really good and efficient at what we do," he says. "So now we are sharing what we have learned and providing a service to others."
About AMA Construct Inc.,
AMA Construct Inc. is a real estate consulting company focused on creating successful real estate opportunities in today's real estate climate. AMA Construct's expert team covers real estate acquisition and liquidation, major construction or maintenance, property management and property preservation. AMA Construct partners can access real time information on all of their assets through our proprietary software and website.
For more information, please visit:
AMA Construct Inc : http://www.ama-assets.com
Aaron Amuchastegui Construction: http://www.norcalhomerestoration.com
Capri Property Real Estate: http://www.capripropertyrealestate.com