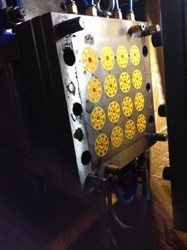 (PRWEB) October 10, 2013
Recently, Wuxi Glory Plastics, a leading plastic molding company that has made its goal to deliver the right products to the customers worldwide, has announced its new collection of EIFS fasteners (http://www.plastics-molding.com/EIFS_PB_Washer.htm). These high quality products are offered with great discounts, up to 39% off, now.
According to the CEO of the company, EIFS (Exterior insulation and finishing system) is a type of building exterior wall cladding system; this system can provide exterior walls with an insulated finished surface and waterproofing in an integrated composite material system. EIFS has become the cladding system of choice in many of today's modern designs. To function properly, EIFS needs to be architecturally designed and installed as a system. The EIFS mechanical fasteners from Wuxi Glory are designed for the customers around the world.
"The promotion is specially launched to attract more customers. Thermal efficiency, outstanding aesthetics, cost effectiveness and durability are the primary reasons for the fast growth of EIFS in the recent 10 years. We are ready to help manufacturers, OEMs and converters develop their next product innovations," says the CEO of the company.
The company is offering a great range of blow molding services (machinery, polymer properties, tooling and auxiliary equipment, processing and more). The business says that its EIFS fasteners on its website look similar to the true products. The color and type of the EIFS fasteners should be the same, but the smaller details may be different. OEM orders are welcome.
Wuxi Glory Plastics was established in the year 1995. It is a China based manufacturer which is an industry leader in the China plastic industry. It is known for its high end services and competitive rates. For more information visit their site address at http://www.plastics-molding.com/