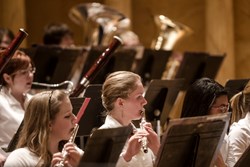 Toledo, OH (PRWEB) October 14, 2013
"Tchaikovsky with a Twist" is the title of the Toledo Symphony Youth Orchestras' season opening concert on Sunday, October 20. The 4:00 p.m. program will be presented in the Toledo Museum of Art Peristyle.
As the title suggests, Tchaikovsky's music will be prominent throughout the concert; beginning with the Concert Orchestra's reading of the Finale to his Symphony #5. The Sorcerer's Apprentice by Dukas and Brahms' Tragic Overture will complete the first part of the concert.
Mozart's Overture to the Marriage of Figaro and the 4th movement of Symphony #4 by Brahms will be among the selections performed by the Symphonic Orchestra in the second portion of the concert. Wasim Hawary will conduct.
The Philharmonic Orchestra, conducted by Ken Thompson, will open the final segment of the afternoon's program with the world premiere of "The Exorcism of the Sugar Plum Fairy" by Michael Schelle. Schelle is on the faculty of Butler University's School of Music, and hopes to attend this premiere performance. Fittingly, the concert will conclude with the Suite from the Nutcracker by Tchaikovsky.
This free performance begins at 4 p.m. Parking is available at the Toledo Museum of Art for $5. For more information, call 419-241-1272.