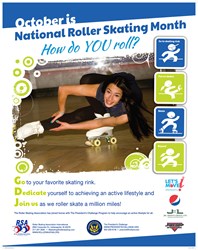 Indianapolis, IN (PRWEB) October 14, 2013
The Roller Skating Association International (RSA) is encouraging families to seek out their local roller skating rinks to find out more about special events, activities and promotions in celebration of National Roller Skating Month (NRSM). This October, the RSA, along with nearly 1000 member skating centers, are promoting roller skating with a new "How Do You Roll" campaign. Families, kids and teens are encouraged to go to their local roller skating rink and dedicate themselves to achieving an active lifestyle and joining the RSA as we roller skate a million miles.
"Roller skating has been a popular fitness activity for over 75 years and the industry is currently seeing an exciting upswing of adults returning to this beloved activity," said Jim McMahon, Executive Director for the RSA. "These adults now bring their children to enjoy one of their favorite activities together as a family. The rise in popularity of roller derby, speed skating and artistic figure roller skating is evident by the number of roller skating centers opening throughout the world at an amazing pace to keep this timeless popular activity alive."
Roller skating is a unique way to achieve health benefits while having fun. The average person can burn 350 calories by skating at a rate of six miles per hour. This number increases to 600 calories if that same person averages 10 miles per hour. Roller skating centers have partnered with The President's Challenge Program and Let's Move with the mission of keeping kids active and healthy in a safe environment. Roller skating is also recommended by the American Heart Association as an aerobic fitness sport.
The President's Challenge is a program that encourages all Americans to make being active an important part of their everyday lives. No matter what your activity and fitness level, The President's Challenge Program can help motivate you to improve. For more information, please visit http://www.presidentschallenge.org or call 1-800-258-8146.
The Roller Skating Association International (RSA) is a not-for-profit trade association representing skating center owners and operators, teachers and judges of roller skating, manufacturers and suppliers of roller skating equipment and coaches of artistic skating, roller hockey and speed skating. The association is proud to represent skating centers internationally. To find a member roller skating rink nearest you, visit http://www.rollerskating.com and click on Locator.
For more information, please contact:
Angela Tanner
Director of Marketing
Roller Skating Association International
317-347-2626 Ext. 102
atanner(at)rollerskating(dot)com
Jim McMahon
Executive Director
Roller Skating Association International
317-347-2626 Ext. 104
jmcmahon(at)rollerskating(dot)com