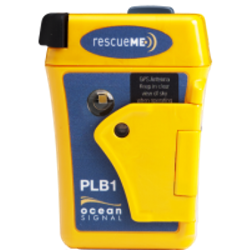 Gloucester, Va. (PRWEB) October 11, 2013
Chesapeake Marine Training Institute is pleased to announce it now offers the Datrex Ocean Signal rescueME World's Smallest Personal Locator Beacon in its recently launched online ship store.
Features of the beacon include that it's 30 percent smaller than most personal locator beacons and fits inside a life jacket.
It includes a retractable antenna, seven-year battery life and warranty, one candela brightness strobe light, 66 channel GPS receiver and floating pouch for belt or general storage.
"Wherever you are, at sea or on land, rescueME provides the reassurance that emergency services can be alerted by the press of a button," according to Datrex. The world's smallest personal locator beacon "can be operated with a single hand even in the more challenging situations."
It transmits a personal location and ID to a rescue coordination center via a satellite link, according to Datrex.
Chesapeake Marine Training Institute launched its online Ship Store in September 2013, making its marine tools, course materials, home study programs, apparel and gifts available for purchase.
All of the marine training tools and study aides that are available inside the Chesapeake Marine Training Institute's retail store on its Gloucester, Va. campus are available in the online Ship Store, including Chesapeake Marine Training Institute's newest signature t-shirts, available in orange, black, navy and gray.
Other items available include Rules of the Road Flash Cards; Exam Preparation Materials for General Safety Environmental Protection courses, Navigation General, and Rules of the Road; gifts items including hats, mugs, messenger bags and can coozies; Weems & Plath dividers, parallel ruler and plotter, protractor triangle and course plotters; and Chesapeake Marine Training Institute's home study programs for mariners who want to kick start preparing for license exams even before they arrive on campus.
ABOUT CHESAPEAKE MARINE TRAINING INSTITUTE: Established in 1992, Chesapeake Marine Training Institute (CMTI) – a service disabled, Vietnam era veteran owned business – provides professional marine educational services to military and civilian mariners. While its modern classrooms and outdoor training area is located on George Washington Memorial Highway near Gloucester Point in Hayes, CMTI proudly also offers on-site training and home study programs.
In 2002, Marine Log magazine called CMTI one of the top maritime educational, recruitment and training resources in the nation.
Its instructors are seasoned mariners, holding a current U.S. Coast Guard License as Master with a minimum of five years at sea experience. CMTI's staff also includes License Consultants trained by the Coast Guard's National Maritime Center as Mariner Credentialing Agents. These agents serve as experts to help each mariner sail smoothly through their licensing application process.
Learn more about Chesapeake Marine Training Institute at http://www.chesapeakemarineinst.com or call 800-642-CMTI.