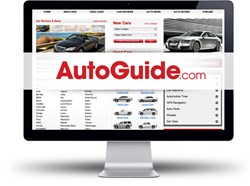 "Dan's experience leveraging audience data to help auto marketers sell more cars will help our partners connect with AutoGuide.com Group's 36 million monthly visitors and benefit from its 50 million auto social media conversations."
Toronto, Canada (PRWEB) October 11, 2013
The AutoGuide.com Group, a division of VerticalScope Inc., announced the addition of online automotive industry leader Dan Timmer to its team of automotive and online media experts. As Global Vice President of Sales for AutoGuide.com Group, Dan leads the growth of the division's sales team as it partners with auto OEMs and other major marketers seeking to reach its audience of car shoppers and influencers.
"Dan's success at Edmunds.com and at Ford Motor Company along with his fantastic reputation in the industry make him the perfect person to lead our AutoGuide.com Group sales team," said Andy Jacobson, VerticalScope's SVP of Sales. "Dan's experience leveraging audience data to help auto marketers sell more cars will help our partners connect with AutoGuide.com Group's 36 million monthly visitors and benefit from its 50 million auto social media conversations." Jacobson went on to add that Timmer leads a growing sales team of auto industry experts based in Los Angeles, Seattle, Chicago, Detroit, Toronto and New York and now boasts experience from companies such as Cars.com, KBB.com, Ford, Edmunds.com, Jaguar, Lincoln, eBay Motors, MotorTrend, Automobile and AOL.
According to comScore, the AutoGuide.com Group attracts the industry's largest and most in-market automotive audience due its unique combination of expert and user generated content. "Shopping for cars, car products and car services is complicated," notes VerticalScope CEO Rob Laidlaw. "Shoppers love our sites because our experts and community members help them answer their shopping questions in ways other shopping, brand and mass social media sites can't." Laidlaw adds that AutoGuide's communities are an invaluable environment for marketers to participate in the shopping discussions about their products and services to manage their reputations, create brand awareness, influence consideration and drive purchase intent.
About AutoGuide.com Group
The AutoGuide.com Group is the largest and fastest growing division of VerticalScope, Inc. (Verticalscope.com), a Toronto-based premium publisher with a wholly owned network of more than 800 professional content and social community sites. AutoGuide.com Group's 400 auto sites attract more than 36 million visitors each month. In business since 1999, VerticalScope is a leader in the many industry verticals in which it competes, including automotive, outdoor, powersports, power equipment, pets, and technology.
To learn more please visit: VerticalScope.com
Media and Marketing: Jerry Orban, 416-341-8950 x. 248, jorban(at)verticalscope(dot)com
Sales: Andy Jacobson, 312-420-2104, ajacobson(at)verticalscope(dot)com
Editorial: Joe Magro, 416-341-8950 x. 312, jmagro(at)verticalscope(dot)com