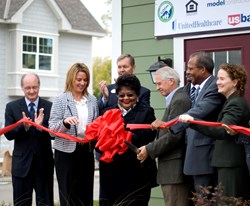 Germantown Village is a major milestone for this important community
Dayton, OH (PRWEB) October 18, 2013
Dayton Mayor Gary Leitzell yesterday headlined a ceremonial ribbon cutting for Germantown Village, a new mixed-income, affordable housing community that is the first phase of a multi-phase revitalization initiative underway in the historic Germantown-Broadway area of Dayton. Joined by state officials, community leaders, and residents of the new housing, the Mayor heralded Germantown Village, developed by The Michaels Development Company in a private-public partnership, as a major milestone for this important community located just outside downtown Dayton.
"We are thrilled to join our partners in dedicating this beautiful new community of affordable housing in Dayton," Mayor Leitzell said. "Development and change are underway in nearly every corner of the city and the Germantown corridor is no exception. With the Wright-Dunbar Village and the new Greater Dayton Recreation Center nearby, the area is noticeably on the upswing. We look forward to seeing families enjoying life in this Dayton neighborhood."
When fully complete, the four-acre community will complement the historic character of nearby areas and be a prominent feature of the neighborhood's streetscape, offering quality affordable housing for families of all incomes as well as community recreation space.
This first phase of Germantown Village comprises five buildings with a total of 60 apartment homes. The buildings vary in height, two story and three story, and apartments range from one bedroom to three bedrooms. Ten percent of the apartments are ADA-accessible, and all feature energy efficient building systems and appliances. Amenities include a playground, a community garden, walking paths, and a community center.
More than half of the apartments offer rents affordable to households earning at or below 50 percent of the area's median income. Germantown Village is being professional managed by Interstate Realty Management Company, which will ensure it remains a community asset for years to come.
"We are very proud to be a partner with the City of Dayton on re-establishing the gateway to the Wright-Dunbar historic community," said Michaels Development Company Senior Vice President Whitney Weller. "We are grateful for the city's leadership and for the community's support," she said.
The $12.8 million development is financed by a variety of sources, including equity raised by the sale of low income housing tax credits allocated by the Ohio Housing Finance Agency. The major investor in those credits is UnitedHealthcare, which invested $8.9 million through a partnership with U.S. Bank. Additional funding came from federal Neighborhood Stabilization Program funds (NSP2), and federal HOME funds from the U.S. Department of Housing and Urban Development.
About The City of Dayton:
The City of Dayton provides high-quality services to 140,000 residents and businesses in the heart of Ohio's Miami Valley region. Dayton is an emerging global technology hub for the aerospace, medical and advanced manufacturing industries, among others. Downtown Dayton is also the region's cultural and entertainment center, with a growing community of independent retailers, entertainment amenities and downtown housing. Go to http://www.daytonohio.gov for more information.
About The Michaels Organization:
Michaels Development Company and Interstate Realty Management are part of The Michaels Organization, a family of eight independent, but integrated, operating companies dedicated to excellence in affordable, mixed-income, military and student housing. Serving more than 100,000 residents in 360 communities across 34 states, the District of Columbia, and the U.S. Virgin Islands and with a development portfolio valued in excess of $3 billion, The Michaels Organization is a national leader in the residential real estate industry, with full service capabilities in development, property and asset management, construction, mortgage finance, and tax credit syndication.