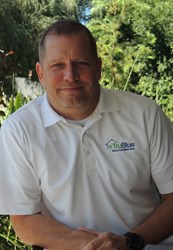 Farmington, CT (PRWEB) October 11, 2013
When Adam Wallace found himself unexpectedly parting ways with his 20-year manufacturing career, he took a step back and thought about what he really wanted to do with his life moving forward. It all came down to where he started his career – serving the people.
That's why Wallace, a Navy veteran, is excited to announce the launch of his new small business, TruBlue Total House Care.
TruBlue specializes in providing comprehensive home care services including complete yard work, household repairs and maintenance, maid services, seasonal work, home improvements, emergency repairs and more for residential and commercial property owners.
"We have a growing senior community in the Farmington Valley and this is not just a great service for seniors, but also for active adults and dual income households that just don't have the time, or the ability, to accomplish home improvement projects or ongoing lawn care," Wallace said. "With one call, TruBlue can take care of all of your house care needs. It's convenient and it's affordable."
With TruBlue's customizable system, affordable services are offered year-round and are tailored to meet individual needs and budgets.
Wallace, a member of the National Veteran-Owned Business Association, hopes people will find working with TruBlue to be a comfortable and convenient experience.
For additional information on how Wallace can help you manage the details of your home, call him at (860)756-0985, email him at awallace(at)trubluehousecare(dot)com or visit http://www.TruBlueFarmington.com.