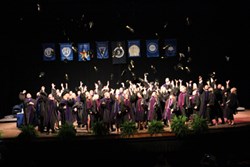 The state bar exam confirms to us, by an external measure, that we are preparing our students well for practice of law, fulfilling our mission and building a legacy Lincoln would be proud of.
Knoxville, Tenn. (PRWEB) October 11, 2013
The inaugural class of the Lincoln Memorial University-John J. Duncan, Jr., School of Law (LMU-DSOL) posted an 81 percent pass rate on the Tennessee bar exam, putting it on pace to compete with the nation's long established law schools.
"We always knew that we provided a sound legal education for our students," said LMU-DSOL Vice President and Dean Parham Williams. "The state bar exam confirms to us, by and external measure, that we are preparing our students well for the practice of law, fulfilling our mission and building a legacy Lincoln would be proud of."
A school-by-school comparison of the July 2013 exam results has not been released by the Tennessee Board of Law Examiners (TBLE). The pass rate for the July 2012 exam was 77 percent for first-time exam takers who graduated from American Bar Association (ABA) accredited law schools.
The performance of LMU-DSOL's graduates on the Tennessee bar exam shows that the school, which is currently approved by the TBLE and is seeking provisional ABA accreditation, substantially complies with one of the bright-line bar passage requirements established by the ABA for accreditation, which requires that, in at least three of the past five calendar years, 75 percent or more of the students who took the exam the year they graduated passed it.
"We are delighted with the particularly strong performance of our law graduates on the recent Tennessee bar exam," said LMU President B. James Dawson. "I wholeheartedly congratulate and thank the members of the class of 2013 for their hard work and their confidence in our new law school. The entire LMU academic community is extremely proud of their accomplishments and we will continue to assist them as they become productive and responsible members of the Tennessee legal community."
The Tennessee bar exam is administered annually in February and July. In addition to passing the two-day exam, candidates to the bar must also pass a professional responsibility exam, which they can take during law school. LMU-DSOL students achieved an enviable passage rate of 98% on the exam in 2012. Qualified members of LMU-DSOL's inaugural class will be sworn into the Tennessee bar on November 4, at the Knoxville City County Building.
"At LMU-DSOL we emphasize the importance of training our students to be effective lawyers. And when a law school does a good job preparing students to be lawyers, it's doing a good job preparing them for the bar exam," Williams said. "These new LMU-trained lawyers will serve their clients well and will be valuable members of our profession."
The Lincoln Memorial University-Duncan School of Law is located in Knoxville's Historic Old City Hall Building. LMU-DSOL is an integral part of LMU's values-based learning community, and is dedicated to preparing the next generation of lawyers to provide sound legal service in the often underserved region of Appalachia and beyond. For more information about LMU-DSOL, call 1-800-325-0900, ext. 5303 or visit us online at http://www.lmunet.edu/law.
Regarding ABA Accreditation
The Dean is fully informed as to the Standards and Rules of Procedure for the Approval of Law Schools by the American Bar Association. The Administration and the Dean are determined to devote all necessary resources and in other respects to take all necessary steps to present a program of legal education that will qualify for approval by the American Bar Association. The Law School makes no representation to any applicant that it will be approved by the American Bar Association prior to the graduation of any matriculating student.
For additional information regarding the process, please see the ABA Law School Accreditation Process. For general information, contact the ABA (http://www.abanet.org/legaled) at American Bar Association, section of Legal Education and Admissions to the Bar, 321 North Clark Street, Chicago, Illinois 60654-7598 or call (312) 988-6738.