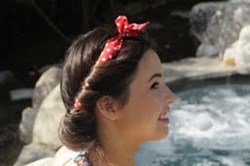 Every day can be a great hair day with the SoCal Curls Hair Curling Tie.
Thousand Oaks, CA (PRWEB) October 15, 2013
"Everyone knows that having great hair just seems to add a little magic to your day. Ask any woman. When we look great, we feel great," says Rebekah Johnson of SoCal Curls. "Our SoCal Curls Hair Curling Tie makes it easy to have beautiful hair every day of the week, no matter how busy life gets."
The SoCal Curls Hair Curling Tie was invented when two moms, best friends, realized there must be a better way for their daughters to quickly and easily create beachy curls without causing any damage to their hair. It slips out of your hair easily, leaving you with soft manageable curls. The tie is filled with an organic mix that retains heat after only thirty seconds in the microwave. The tie takes only a few minutes to heat, tie, and wrap. No tangles, no harsh heat or chemicals, your hair stays healthy and shiny with the SoCal Curls Hair Curling Tie.
The SoCal Curls Hair Curling Tie is available worldwide for $18.99 plus shipping and handling from socalcurls.com
The Beauty of the SoCal Curls Hair Curling Tie

Achieve dramatic curls to beachy waves
Healthy for hair
Adds volume
Takes only minutes to wrap
Leave in for as little as 30 minutes
Comfortable to sleep in for a quick morning routine
Perfect for commuters
Great for travel
Looks cute while worn
Great to wear during Yoga and Pilates
Keeps unruly hair from tangling while sleeping
Smooths naturally curly hair into manageable waves
The SoCal Curls Difference
What makes SoCal Curls different from anything else on the market? Using curlers and curling irons damages hair and is time consuming. Using the bun method for curling requires long hair and rubber bands to create a ponytail, which leaves a kink. The SoCal Curls Hair Curling Tie is easy to wear, uses a soft non damaging heat and leaves you with healthy, shiny hair. Just heat, tie and wrap!
The SoCal Curls Hair Curling Tie.....keeping your hair healthy, one curl at time!