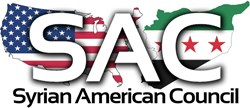 Washington, DC (PRWEB) October 11, 2013
The Syrian American Council (SAC), the nation's largest Syrian American community organization, acknowledges the Norwegian Nobel Committee's choice to award the 2013 Nobel Peace Prize to the Organization for the Prohibition of Chemical Weapons (OPCW), the international chemical weapons watchdog organization. We welcome OPCW's challenging work in Syria and appreciate the Nobel Committee's acknowledgement of the need to rid the world of chemical weapons.
However, chemical weapons are only a small part of the crisis in Syria, as OPCW Director-General Ahmet Uzumcu acknowledged. In Uzumcu's remarks thanking the Nobel Committee, he stated his hope that the recognition brought by this award would "help broader efforts to achieve peace" in Syria.
It is the hope of the Syrian American Council that this prize for "peace" shows the international community just how much remains to be done in Syria-the prize should be seen as a call to action, not a sign of a job well done. The use of chemical weapons in Syria is a symptom of the deteriorating conflict, and removing the Assad regime's chemical weapons arsenal does not remove the underlying conflict.
"The vast majority of Syrians have been killed or forced to flee because of the Assad regime's use of conventional, rather than chemical, weapons," said SAC National Board Member Kenan Rahmani. "The longer the crisis continues-with or without chemical weapons-the more dreadful the consequences for Syrians and for the entire Middle East. Chemical weapons are terrible, but conventional bombs and artillery are equally deadly. While we admire the OPCW's mission and work, awarding a peace prize when Syria is so far from peace feels hollow."
SAC calls on the international community to build upon the chemical weapons agreement toward the next step of negotiations, in which Assad must surrender power to a transitional government with full executive authority. Only through such a transition does Syria truly have a chance at peace.