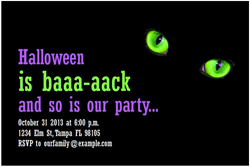 Halloween is easily one of the biggest party celebrations of the year.
(PRWEB) October 14, 2013
Halloween is one of the biggest party celebrations of the year. Chances are, any party "spook-tacular" will include huge numbers of guests and passers-by enjoying the favors or trick-or-treating. Guaranteeing that a party will be the hit of the neighborhood will require a large number of Halloween party invitations.
Now, an online leader in helpful Excel templates has released new complimentary Halloween party invitations with the holiday on the horizon.
"With this template, you can maximize your guest roster and minimize the preparation effort," said ExcelTemplates.net spokesperson Ben Davidson. "This particular holiday invitation template offers an extremely poignant graphic without the hassle of paying for user permission."
The Halloween party invitations featured on the site are instantly downloadable and can be printed off with just a few clicks of a mouse. In addition, a differently-styled set of Halloween costume party invitations are also available.
"Halloween costume parties are often the best social event of the fall season," said Davidson. "A costume party is a good excuse to get creative, do some decorating, and try to show off a little bit with a great costume."
With these digital Halloween party invitations, party throwers won't have to worry about wasting time writing in event details on every single invitation. Plus, an added expense of throwing the party will be eliminated.
"The Halloween costume party invitations are meant to be customized," said Davidson. "You can even make an event website or social network page, and then add a QR code or html link to the invitation. If the party is going to move from a bar or restaurant to a home, add a map of the area to the back of the template."
For the new Halloween party invitations template, or for hundreds of other useful templates, calculators and spreadsheets, please visit ExcelTemplates.net.