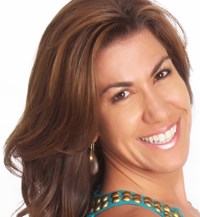 Impact & Influence is all about how you can get your blessing out into the world, while getting paid handsomely and, most importantly, having fun.
San Diego, CA (PRWEB) October 16, 2013
Entrepreneurs who want to learn how to package, price and sell their expertise without being salesy – and who are unable to attend Lisa Sasevich's Impact & Influence Live Event in Long Beach on October 17-19 – can now take advantage of one more opportunity to get in on some of the most powerful lessons, thanks to a complimentary backstage pass.
This is the last time Sasevich is offering Impact & Influence as a live event, so tickets sold out faster than ever. That's why she is inviting anyone who wants to learn how to grow their business their way to grab a backstage pass to join her.
"Impact & Influence is all about how you can get your blessing out into the world, while getting paid handsomely and, most importantly, having fun," Sasevich said. "So I hope entrepreneurs will take me up on this offer to join me for this opportunity to learn some of the juiciest tidbits from this year's completely sold-out event!"
By signing up for a complimentary backstage pass, heart-centered business people will be able to join Sasevich for segments she carefully selected specifically for backstage pass holders.
Heart-centered entrepreneurs who sign up for a backstage pass to Impact & Influence learn:

How to build a successful, sustainable, scalable business around their expertise, so they can make big money while making a big difference with their gifts.
What they need to do to get their brilliance out in the world in a huge way, and be paid handsomely for it.
How to use up-sells, down-sells and un-sells to grow their business.
How they can sell the transformation they uniquely provide in an authentic way that feels good to them and their potential clients.
The EXACT steps they need to take to build their business so it fits into their life (not the other way around).
And so much more.
"If you're like so many of my clients, you started your business so you could get your brilliance out into the world," Sasevich said. "The nuggets you learn as a backstage pass holder have the potential to skyrocket your results, and fast!"
Sasevich is offering access to the backstage pass only for a limited time, so interested entrepreneurs can sign up here: http://www.impactandinfluenceintensive.com/video/backstage/.
For more information about Sasevich and The Invisible Close, visit http://www.theinvisibleclose.com.
Recently honored as one of America's Top Women Mentoring Leaders by WoW magazine, Lisa Sasevich, "The Queen of Sales Conversion," teaches experts who are making a difference how to get their message out and enjoy massive results, without being "salesy."
Recognized sales expert by Success Magazine, and as one of America's fastest growing independently owned companies for the second consecutive year by Inc. Magazine, Lisa delivers high-impact sales-closing strategies for turbo-charging entrepreneurs and small business owners to great profits. According to best-selling author Brian Tracy, "Lisa Sasevich is one of the greatest discoveries in America today!"
After 25 years of winning top sales awards and training senior executives at companies like Pfizer and Hewlett-Packard, she left corporate America and put her skills to test as an entrepreneur. And in just a few short years, Lisa created a multi-million-dollar home-based business with 2 toddlers in tow. Lisa is the undisputed expert on how to make BIG money doing what you love.