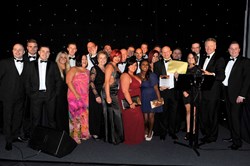 Upminster, London (PRWEB UK) 16 October 2013
A total of 18 awards were presented at the event, which was hosted by comedian Rory Bremner at Thames Chase Community Forest in Upminster. Havering Council's Cabinet Member for Community Empowerment Cllr Robert Benham said the ceremony was a huge success, marking the impressive achievements of local companies over the last 12 months.
"It was the ninth annual Havering Business Awards and, as ever, the standard of entries was extremely high," he added. "It's always wonderful to see so many local companies come together for the event and we send our heartiest congratulations to both the winners and the finalists who have all done themselves very proud."
Entertainment on the night was provided by gangsters, molls and flappers from the Havering Music Makers, a musical theatre society based in Romford and the "Many faces of Dean Taylor". Business awards regular Carly Hipson sang throughout dinner while Keith Ball and the Jazzmen started the dancing off after the awards ceremony. The fun continued with Time FM bringing it back up to the 21st century for the final hour.
Mike Joseph from Right Choice Insurance Brokers Ltd said he and his team were thrilled to have won the evening's top prize, Havering Business of the Year. He said: "Since opening for business in 2008, RCIB has grown amazingly well, during one of the worst recessions on record. The staff here are second to none and without them none of this would be possible, we have gone from start up to 25th largest personal lines broker in the UK in just 5 years"
"We're a family-run business, utilising modern technology whilst also retaining a human presence."
"Our innovation allows us to do things differently, taking into account things that others don't, for example a forthcoming birthday or conviction that is almost spent. We are happy to listen to our customers and always work with them to get the best deal."
Recruitment agency Total Assist Group from Romford was a double winner, taking the prize for Growing Business of the Year as well as Business Person of the Year for founder Justin Rich.
He said: "With more than 20 years' experience and a profound understanding of the sectors in which we operate, I have successfully responded to the changing market, making Total Assist a top 10 sector agency. We are on target to break through the £20m mark with a vision and environment in which all employees can flourish."
Another business taking home two gongs was The Vanilla Room salon in Hornchurch, which won the Customer Care and Apprentice of the Year for Ellie Ford. Kerry Larcher from the salon said: "This year The Vanilla Room celebrates turning 18! This double award win is testament to our consistent dedication to excellence for our clients. A huge thanks goes to our loyal clients, true TVR fans who enjoy the creative excellence of our hair team and considerate and calm attitude of our beauty department."
She added: "Ellie Ford is an outstanding third year apprentice at The Vanilla Room, we know this award will help her tremendously as she graduates and joins our hair team in November…we think she'll have lots of very happy new clients!"
RM Magazine was another double winner, being crowned Business2Business victor, while its Advertising Director Robert Wittridge won the Entrepreneur of the Year award. He said: "I founded my company at the age of 26; two years on the RM brand has grown and now incorporates a monthly business publication, a thriving rewards programme, regular networking events and helps raise thousands of pounds for local charities each year. To get recognition for my work and even to be nominated for Young Entrepreneur of the Year and Business2Business is an honour. I would not have been able to achieve what I have without the help of my amazing team."
The Best Family Business award was presented to ventilation company Surevent Ltd, based in Romford. Director Dean Jones said: "Myself, my wife Kerry and daughter Bianca are a hard working team who focus on family values. This reflects the high standard of work and service we provide to greatly improve people's lives by improving the quality of the air they breathe in addition to reducing condensation and eliminating mould. The energy efficient ventilation systems, in particular, heat recovery assist in achieving sustainable homes. We have a portfolio of clients that has steadily grown to include local authorities, architects, housing associations, private landlords, home owners and developers."
The Queen's Theatre in Hornchurch picked up the Best Hospitality in Havering award. Administrative Director Thom Stanbury said: "As a registered charity and the cultural hub of the region, over 200,000 people enjoy our work every year, from the best in live entertainment to an inspiring education and outreach programme."
Triumphant in the Best in the Community – Business award was Romford Shopping Hall. William Sunnucks, Chairman of the family-owned Romford Shopping Hall said: "We're thrilled to have won this award in our 80th anniversary year. We pride ourselves on being at the heart of our community helping many local organisations, charities and clubs including Wellgate Farm, the Brentwood Road Gallery, St Francis Hospice and Bedrock Radio. We also support many small business start-ups."
Taking home the Best in the Community – Charity prize was Thames Chase Community Forest in Upminster. Ann Bartlett, Chairman from the project said: "We work hard to provide this unique, free space close to where people live. It gives everyone the opportunity to enjoy the countryside and all that it has to offer. Our forest centre also hosts a wide range of community, educational and business events."
Heavenly Beauty and Tanning Ltd in Harold Hill was announced as the winner of the Best Small Business award. Maria Hayllar from the salon said: "All of our team are delighted to have won this award and we'd like to thank all of our families, friends and clients who have supported us since we opened. We will not allow complacency to set in though and will continue to look for better products, additional services and treatments for our clients."
The Green award went to Swan New Homes for the Oldchurch site in the borough. Paul Hardy explained that sustainability is of great importance to the company. He said: "We deliver innovative homes designed for tomorrow's lifestyles and technologies. We continue to utilise modern building methods, which combine the best construction standards at the same time as reducing the carbon footprint of our developments."
Romford-based Metro Security (GB) beat off stiff competition to win the Innovation award in its 35th anniversary year. Managing Director Trevor Wallace from Metro explained that the company has developed eyeTeach, an audio and visual teaching aid for schools, colleges and universities. He said: "The system allows teachers to see themselves in the classroom environment and review their own performance and that of their students. eyeTeach is already in use at Cumberland School in Newham, where it's being used in the history, English, science and ICT departments."
The Marketing Excellence award was given to Acumen Design from Romford. Ray Calder from the agency said: "Powerful brands don't just happen by chance; they must be cultivated and nurtured over time. We help clients realise their brand's potential through strategic thinking, curiosity and bags of creativity. Small or large, we thrive most when working with clients who passionately believe their business or organisation has the potential to achieve great things."
Romford's Doggie Delights was chosen as the winner of the New Business of the Year award. Kelly Murfet from the shop and grooming salon said her team prides itself on offering a personal, informed service to its clients. "We are completely holistic with only the finest natural and organic products used," she said. "We offer a complete range of services from basic bathing for the short coated dogs to more specialised scissoring grooming and hand stripping for other breeds."
Taking the prize for Staff Training and Development was Romford's New Beginnings Nurseries Ltd, whose Managing Director, Joanna Wilkinson said investing in employees was vital to a thriving business. She added: "We firmly believe that both the success of each team member in his or her role and a strong emphasis on team work impacts the overall success of the company. We want our staff to know that they are valued and have been rewarded with loyalty and commitment to provide a first class, quality service to the clients."
And last but not least, the Streets Ahead award was presented to construction and maintenance firm Lakehouse Contracts Ltd, based in Romford. Sean Birrane, Managing Director from the company said: "We are committed to reducing our carbon footprint and environmental impact. To this end, we recruited a sustainability director, who has re-launched our sustainability strategy. Recent initiatives include driver training for staff and a move away from company cars and fuel cards."
The Havering Business Awards were sponsored by a range of organisations including Climate Energy, Lloyds Bank, Havering College and Business East. For more information, visit http://www.haveringbusinessawards.co.uk.
-ENDS-
Notes to editors
1. Issued on behalf of The Havering Business Awards by KAT Marketing. For further information, contact Claire Hunt 01708 560056.
2. The full background to the awards, the categories and entry process are available on the website, http://www.haveringbusinessawards.co.uk, or by telephone on 01708 560056.
3. The awards are open to all businesses in the London Borough of Havering. We judge them based on the criteria for each category, and we short-list three finalists in each case. Every finalist gets a visit from a pair of field judges (at a mutually convenient time), and we announce the winners at the awards ceremony at Thames Chase Community Forest Centre's 17th Century barn on 4 October.
4. Category list

Apprentice of the Year - sponsored by Havering College, presented by Sally MacPherson
Best Family Business – award presented by Jeremy West, West & Coe
Best Hospitality in Havering – sponsored by Romford Recorder, presented by Chris Carter
Best in the Community (Business) – presented by Paul Hardy, Swan New Homes
Best in the Community (Charity) – presented by Christine Smith, Molly's Florist
Best Small Business – sponsored by Lloyds Bank, presented by Martin Bumpus
Business Person of the Year – sponsored by Utilize, presented by Steve Atkins
Business2Business – sponsored by Neopost Limited, presented by Warren Tait
Customer Care – sponsored by Thames Chase Trust, presented by Ann Bartleet
Green Award – sponsored by Climate Energy, presented by Faye Edwards-Miller
Growing Business of the Year – sponsored by business-east, presented by Mark Bass from Sanofi
Innovation Award – sponsored by Positive Media, presented by Amber Sudbury
Marketing Excellence Award – presented by Wayne Heat, Go30
New Business of the Year – sponsored by RM Magazine, presented by Rob Wittridge
Staff Training & Development – presented by Cheryl Coppell, London Borough of Havering
Streets Ahead – sponsored by Cycle Training East, presented by Amanda Burton
Young Entrepreneur of the Year – presented by Steve Westlake, Coborn Engineering Company Ltd
Havering Business of the Year – sponsored by Kingston Smith, presented by Dan Martine and Steve Rushmer
All images can be found at this Dropbox link: https://www.dropbox.com/sh/x29w31yhextq1pu/A9geCLeWno.