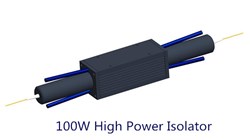 Shenzhen, China (PRWEB) October 14, 2013
DK Photonics is pleased to announce that the company is now offering up to 150W power handling 980nm/1064nm high power isolators and up to 200W power handling 915nm/975nm Multimode Pump Laser Protectors at very competitive prices.
DK Photonics can offer excellent environmentally stable and reliable products with the following performance specifications:
-Up to 80W design is available as a free-space version of high power isolator.
-Up to 150W design is offered with Large Mode Area (LMA) Single Mode (SM) fiber pigtail on one side and collimated free-space beam on the other side version of high power isolator (water-cool).
-Up to 200W design is offered with a Large Mode Area (LMA) Single Mode (SM) fiber pigtail version of high power isolator (water-cool).
-Up to 200W design is offered with a high power pump laser protector (water-cool).
Based on DK Photonics' smart design of water-cool technology, most of the company's products can handle up to 200W power. These products include the 1064nm high power polarization independent isolator, 1064nm high power collimated free-space beam output isolator, 915nm/975nm multimode pump laser protector and more.
One of DK Photonics' customers says, "Thanks to DK. Its 100W high power components can satisfy our demand for 100W high power fiber laser solution, and there are no other suppliers that can produce similar products."
Both polarization maintaining and polarization independent versions are offered with SM and polarization maintaining (PM) fiber pigtails subject to the power handling requirements. The high power isolator product line also extends to the 780nm-1650nm wavelength range.
Chief technology officer of DK Photonics, Dr. Evan Liu says, "Other related high power products include 1064nm high power fiber collimator, fiber end caps, cladding power stripper, high power polarization insensitive circulator, and high power fused coupler. All of them are available in mass production."
Dr. Evan Liu adds, "High power isolators and PM components are our major focuses. Our high power isolator can deliver up to 150~200W continuous and stable power and 100kW peak power for fiber laser applications. Our PM Components offer excellent optical performance, i.e., high extinction ratio, low insertion loss and high reliability which become the key enabler of laser gyroscope, high-speed optical test equipments and other PM optical systems."
The Company's state-of-the-art design capabilities enable DK Photonics to rapidly deliver a broad range of high-quality products to meet customer specifications and requirements. DK Photonics has received ISO 9001:2008 certification. For more information about DK Photonics Technology Co., Limited and the products, visit http://www.dkphotonics.com
About DK Photonics
Founded in 2010, DK Photonics Technology Co., Limited designs, manufactures and markets fiber optic components for fiber laser, fiber sensor and fiber optic telecommunication applications based on proprietary technology, mature experience and patents. DK Photonics has a group who has more than eight years working experience experts in the field of optical components and optical fiber laser; they formed our professional high-end R&D team.
DK Photonics Technology Co., Limited
6F, D Bldg., Huafeng Industrial Park
Hangcheng Rd., Xixiang, Bao'an
Shenzhen, China, 518000
Tel: +86-755-36820366
Fax: +86-755-26746512