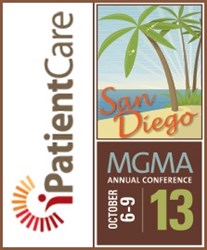 'We enjoy the opportunity to support MGMA and present new enhancements to iPatientCare EHR and PMS that help practices grow profitably, increase practice efficiencies and improve patient outcomes,' said Vipul Patel, STO, iPatientCare
Boston, MA; Detroit, MI; Los Angeles-Long Beach, CA; Middlesex-Somerset-
Hunterdon, NJ; New York, NY (PRWEB) October 15, 2013 -- iPatientCare, Inc., a pioneer in mHealth and cloud based ambulatory EHR, integrated Practice Management and Patient Portal solutions, successfully exhibited its Meaningful Use Stage 2 and ICD–10 ready EHR and Practice Management System at MGMA 2013 Annual Conference at San Diego, California, October 6-9, 2013.
More than hundreds of health care professionals stopped and spent time at iPatientCare booth during the conference. In addition to an intense focus on the upcoming transition to ICD-10, visitors expressed a keen interest in HIPPA Omnibus Rule compliance and Meaningful Use Stage 2 ready EHR and integrated Practice Management System. The pressure from regulatory mandates and the shift toward value-based payments drove significant traffic to iPatientCare booth. Practices need solutions to help them optimize today's world of fee-for-service.
"We always have a great experience at MGMA. We enjoy the opportunity to support MGMA and present new enhancements to iPatientCare EHR and PMS that help practices grow profitably, increase practice efficiencies and improve patient outcomes in a changing healthcare environment. The volume of visitors and their engagement into ICD- 10 transition clearly showed healthcare reforms are driving practices to take a hard look at their existing capabilities and get foundation of success in value-based payments," said Vipul Patel, Senior Technology Officer, iPatientCare.
Conference attendees learned iPatientCare's approach and methodology of implementing ICD-10, physician portals, HIPAA Omnibus compliance, and MU Stage 2 readiness.
Shahab Shaikh, Senior Application Specialist, iPatientCare said, "We enjoy the opportunity MGMA exhibition provides to discuss the issues that relate to implementation of EHR and PMS with practice managers, consultants, and also meeting our business partners. With so many new changes happening in the industry, it's important to learn and share insights and best practices. We are continually creating better ways to serve our current and prospective customers and to prepare them for a successful future in healthcare. MGMA gives us the opportunity to make all these happen."
About iPatientCare
iPatientCare, Inc. is a privately held medical informatics company based at Woodbridge, New Jersey. The company is known for its pioneering contribution to mHealth and Cloud based unified product suite that include Electronic Health/Medical Record and integrated Practice Management/Billing System, Patient Portal/PHR, Health Information Exchange (HIE), and mobile point-of-care solutions that serve the ambulatory, acute/sub-acute, emergency and home health market segments.
iPatientCare 10.8 is compliant with the ONC 2011 Edition criteria and was certified as a complete EHR in accordance with the eligible provider certification criteria. Full certification details can be found at https://www.cchit.org/show-onc-cert?certid=a055000000D3BH1AAN. iPatientCare 10.8 is also certified in CCHIT's separate and independently developed certification program and is a CCHIT Certified® 2011 Ambulatory EHR additionally certified for Child Health.
The company has won numerous awards for its EHR technology and is recognized as an innovator in the field, being a pioneer to offer an EHR technology on a handheld device, an innovative First Responder technology to the US Army for its Theatre Medical Information System, the first to offer a Cloud based EHR product. iPatientCare is recognized as one of the best EHR and Integrated PM System for small and medium sized physicians' offices; has been awarded most number of industry Awards; and has been recognized as a preferred/MU partner by numerous Regional Extension Centers (REC), hospitals/health systems, and academies.
Visit http://www.iPatientCare.com for more information.
About MGMA
MGMA-ACMPE is the premier membership association for professional administrators and leaders of medical group practices. In 2011, members of the Medical Group Management Association (MGMA), and its standard-setting body, the American College of Medical Practice Executives (ACMPE) voted to merge to form a new association, MGMA-ACMPE. Since 1926, the Association has delivered networking, professional education and resources and political advocacy for medical practice management. The Association started as a small network of clinic managers, called the National Association of Clinic Managers, which met for the first time in Madison, Wis., in 1926. The name was changed to the Medical Group Management Association in 1963 to reflect the diverse management roles found in group practice. Visit http://www.mgma.com for more information.