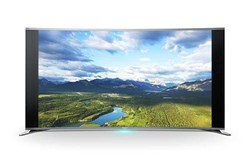 Santa Monica, CA (PRWEB) October 15, 2013
What: Sony is introducing the world's first 65-inch curved screen LED HDTV that provides an immersive, cinematic experience for the home. The very first TVs will be experienced and sold to the public at Video & Audio Center's Santa Monica store.
Sony will also introduce 4K home theater projectors, a hi-res audio line that can play back virtually any file format and deliver audiophile sound.
Who: Top Sony factory representatives and executives, Video & Audio Center Staff and consumers.
Where: Video & Audio Center
1426 Wilshire Blvd. (near 15th Street & Wilshire Blvd.)
Santa Monica, CA 90403
310-451-6200
Time: Tuesday, October 15, 2013 5:00 to 8:00 p.m.
5:00 to 5:30 p.m. – Special Factory Presentation.
Sony 2013 KDL-65S990A 65-inch Curved LED HDTVs will go on sale at 5:30 p.m.
Contact:
Chris Olmstead
Olmstead Marketing
310-625-6546
chris(at)olmsteadmarketing(dot)net
Tom Campbell
213-400-0000
t(at)tc(dot)am
Background:
The unique curved screen of the Sony KDL-65S990A LED HDTV creates a new way for viewers to experience their favorite movies, sporting events, television programming and video games. The edge-to-edge curved construction is engineered to mirror the curvature of the eye so that the viewer will perceive a greater sense of the picture's depth of feel. The curved screen also allows for a wider viewing angle so there is not a bad seat in the house.
The KDL-65S990A LED HDTV features TRILUMINOS® Display, a color technology unique to Sony, and creates incredibly true, natural shades of colors – just the way directors, cinematographers and producers want viewers to see them. Additionally, the S990A features a 4-channel Multi-angle Live Speaker configuration with eight front-facing speakers (six front and two surround) are angled in multiple directions for a surround sound experience that is superior to a conventional slim, "flat panel" TV.
The award-winning Video & Audio Center has been introducing new technologies for more than 31 years. "The arrival of the new Sony 2013 KDL-65S990A curved screen LED HDTV at Video & Audio Center marks another milestone for us and Sony," remarked Joseph Akhtarzad, co-owner Video & Audio Center.
Top Sony factory representatives and executives and Video & Audio Center senior staff will be speaking at the introduction of this advanced curved screen LED HDTV. They will also discuss the current consumer electronics market and the future of home entertainment and what this will mean for the local job market and Southern California economy.
# # #