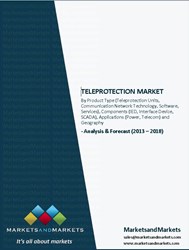 Rockville, MD (PRWEB) October 17, 2013
Teleprotection Market - By Product Type (Teleprotection units, Communication Network Technology, Software, Services), Components (IED, Interface Device, SCADA), Applications (Power, Telecom) and Geography - Analysis and Forecast (2013 - 2018)
The teleprotection market is at its early growth stage; however, it has a high potential across various industry verticals like power, telecom, oil & gas, transportation, information technology, aerospace & defense and so on. The increasing demand for energy saving and seamless transmission will boost the market with the help of advanced communication and network technologies. The market is in its growth stage and penetrating very fast. The market is estimated to reach $9.31 billion in 2018 at a CAGR of 28.67% from 2013 to 2018.
This report based on an in-depth research study on the market and its related industries, focuses on the complete global market for all types of products which are available commercially and which are yet to commercialize in the near future (before 2018). The report presents a detailed insight on the current industry, and identifies key trends of various segments of the market with in-depth quantitative and qualitative information. The report segments the market on the basis of types of products, components, application, and geography. Further, it contains revenue forecasts, and trend analysis with respect to the market's timeliness.
Major players in this market include ABB Ltd. (Switzerland), Alcatel Lucent S.A. (France), Alstom S.A. (France), Cisco Systems (U.S.), DNV Kema (The Netherlands), GE Energy (U.S.), Nokia (Finland), Telco systems (U.S.), Siemens AG (Germany), Schweitzer Engineering Laboratories, Inc. (U.S.) and so on.
To order this report:
Teleprotection Market - By Product Type (Teleprotection units, Communication Network Technology, Software, Services), Components (IED, Interface Device, SCADA), Applications (Power, Telecom) and Geography - Analysis and Forecast (2013 - 2018)
Contact: Shauna
800.298.5699
Customerservice(at)marketresearch(dot)com
MarketsandMarkets
The MarketsandMarkets edge: Worldwide, market research reports are primarily sold for numbers, market segmentation and competitive landscape, within the business leaders.
The analyst working with MarketsandMarkets come from the renowned publishing houses and market research firms globally adding their expertise and domain understanding. We get the facts from over 22,000 news and information sources, a database of hundred thousands of key industry participants and draw on our relationship with more than 900 market research companies globally.
In course of our ongoing relationship with research partners for over a period of three years, our clients have discovered that we can not only head-start any given research project immediately but also execute it in a stipulated time frame. We always prioritize our commitments of confidentiality. The fact that a high percentage of our business comes from client referrals bears ample testimony to the quality of our market research reports.
About MarketResearch.com
MarketResearch.com is the leading provider of global market intelligence products and services. With research reports from more than 720 top consulting and advisory firms, MarketResearch.com offers instant online access to the world's most extensive database of expert insights on global industries, companies, products, and trends. Moreover, MarketResearch.com's Research Specialists have in-depth knowledge of the publishers and the various types of reports in their respective industries and are ready to provide research assistance. For more information, call Cindy Frei at 240.747.3014 or visit http://www.marketresearch.com.
Follow us on Facebook http://www.facebook.com/marketresearchdotcom
Follow us on Twitter http://www.twitter.com/marketresearch_
Teleprotection Market - By Product Type (Teleprotection units, Communication Network Technology, Software, Services), Components (IED, Interface Device, SCADA), Applications (Power, Telecom) and Geography - Analysis and Forecast (2013 - 2018) – Table of Contents:
1 Introduction
2 Executive Summary
3 Cover Story: Primary Research Interview
4 Premium Insights
4.1 Competitive Profiling Of Elite Players
4.2 Geography Life-cycle Of Teleprotection Market
4.3 Growth Strategy Matrix (Ansoff Matrix)
4.3.1 Market Development
4.3.1.1 Japan, Brazil, And India To Lead The Pecking Order Of The Markets Conducive For Investments In Aerospace, Information Technology And Oil & Gas Industry Vertical
4.3.2 Diversification
4.3.2.1 Forward Integration Dubbed To Be The Winning Strategy For Communication Technology Players
4.3.3 Market Penetration
4.3.3.1 Power And Telecom Sector Proving To Be The Most Sought Revenue Avenues For Existing Players To Grab The Lion's Share
4.3.4 Product Development
4.3.4.1 Product Development In New Markets Deemed To Be A Game-changing Proposition For The New Entrants
4.4 Teleprotection Unit Shipment And Average Selling Price Dashboard
4.4.1 Teleprotection System Deployment To Amass 1 Billion Units Landmark By 2018
4.5 Market Investment Analysis
4.5.1 The Major Barriers For Investment In Teleprotection Ecosystem
4.5.2 The Major Pro-factors For Investment In Teleprotection Ecosystem
5 Market Overview
6 Teleprotection Market Analysis
7 Teleprotection Market, By Product Type
8 Teleprotection Market, By Components
9 Teleprotection Market, By Application
10 Teleprotection Market, By Geography
11 Competitive Landscape
12 Company Profiles (Overview, Products And Services, Financials, Strategy & Development)*