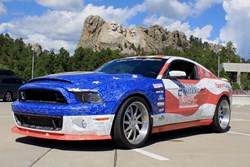 We're excited to bring the High Five Tour 2013 to the Kansas City Area," said Col. John Folsom, founder and president of Wounded Warriors Family Support.
Kansas City, MO (PRWEB) October 15, 2013
In conjunction with the Mustang Club of Greater Kansas City, The Wounded Warriors Family Support Mustang will stop at various locations in the Metro Kansas City Area Saturday November 9th through Veterans Day Monday November 11th as part of the High Five Tour 2013.
The High Five Tour is rallying communities across the country to say "thank you" and show their appreciation to our country's military families for their sacrifices. Wounded Warriors Family Support invites Americans of all walks of life to show their support for military families by visiting a stop on the tour and signing the car with a message of gratitude to our country's veterans and their families. During the five-month tour, the red, white and blue, 850 horsepower 2013 Mustang GT500 "Super Snake" will cover more than 21,000 miles, traveling to more than 60 cities and making stops in 48 states.
The High Five Tour 2013's mission is also to raise funds to build two "smart homes" for two deserving wounded warriors and their families — SFC John Masson of Fayetteville, N.C., and Sgt. Rusty Dunagan of Guthrie, Okla. Wounded Warriors Family Support has partnered with the Gary Sinise Foundation to build the "smart homes," and 100 percent of all funds donated to the High Five Tour will go directly to the construction of the homes. The specially designed homes are custom-built to provide severely wounded veterans quality of life and independence that otherwise would not be possible
The High Five Tour 2013 will be at
Blue Springs Ford, 3200 S. Outer Rd.
Blue Springs, MO.
Saturday 11/09/13 From 4PM-6PM
Visit Blue Springs Ford for more information
Schedule for the Wounded Warriors Event
8 AM - Placement of American flags the length of Blue Springs Ford's property along the outer road.
1 PM - Mustang vehicle display (over 50 expected) from members of the Mustang Club of Greater Kansas City at Blue Springs Ford's lot.
3 PM to 5PM - Food will be offered with donations going to Wounded Warrior Family Support.
4 PM - Arrival of the 2013 Shelby GT 500 Super Snake Mustang with Veterans Honor Guard Motorcycle escort.
4:15-4:30 PM - Welcome to Blue Springs, introductions, presentation of proclamation and $1,000 Helping Others donation from Blue Springs Ford.
4:30-6 PM - Opportunity to sign the car and make donations to the Wounded Warriors Organization.
6 PM - The Mustang will exit the event and the event will conclude.
For more information on the High Five Tour 2013, including the tour's schedule and how to donate, visit http://www.HighFiveTour.com. Wounded Warriors Family Support will continue to provide timely updates about the tour on Facebook and Twitter. For more information about Wounded Warriors Family Support, visit http://www.wwfs.org.