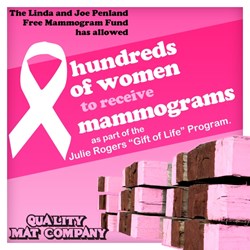 The Gift of Life Program touches so many lives. It's provided thousands of free mammograms and prostate exams, saving many lives."
Beaumont, Texas (PRWEB) October 15, 2013
On Saturday, October 5th, Quality Mat Company and some of their employees, laced up their running shoes and dawned white outfits to participate in the Gift of Life 5K Ribbon Run Color Rush. The 5K is part of the Julie Rogers "Gift of Life" Program, and is a yearly run to benefit the Gift of Life Breast and Ovarian Cancer Educational Awareness Programs.
While Quality Mat is an expert in temporary road mats and ground protection solutions, the company is also very active in charitable foundations, such as the Gift of Life Program. Not only did employees participate in the 5K Ribbon Run Color Rush, the company also donated money to the organization, in order to raise awareness for breast and ovarian cancer.
The Julie Rogers "Gift of Life" Program is a charity that hits close to home for Linda and Joe Penland Sr., founder of Quality Mat Company. Linda is a breast cancer survivor and Joe has been treated for kidney cancer. In fact, in 2007, the couple created the Linda and Joe Penland Free Mammogram Fund, which is designed to help medically underserved women in Southeast Texas, as well as provide funds for free prostate cancer screenings to uninsured and underinsured men.
According to NationalBreastCancer.org, 1 in 8 women will be diagnosed with breast cancer in their lifetime. "Quality Mat is proud to be able to support the Gift of Life Program by participating in events, such as the 5K Ribbon Run Color Rush," said Joe Penland Jr. Participants in the 5K started out wearing white outfits or a Ribbon Rush shirt, and throughout the run they were sprayed with color, turning themselves into colorful works of art.
"The Gift of Life Program touches so many lives," said Penland. "It's provided thousands of free mammograms and prostate exams, saving many lives." Joe, Linda and Quality Mat employees were more than happy to take part in the 2013 Gift of Life 5K Ribbon Run Color Rush. To learn more about the Julie Rodgers Gift of Life Program, please visit their website, at GiftofLifebmt.org.
About Quality Mat Company
The Quality Mat Company has been a leader in ground protection mats since 1974. Based in Beaumont, Texas, over the years, Quality Mat has grown to be one of the largest producers of ground protection mats in the industry.