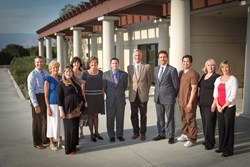 Loma Linda, CA (PRWEB) October 14, 2013
The weight loss surgery program at Loma Linda University Medical Center (LLUMC) has earned national accreditation from the American College of Surgeons (ACS).
The ACS recognizes with accreditation surgical programs that exhibit the utmost level of patient care and safety. Accreditation of the program validates its ability to provide support and hospital resources for the optimal care of morbidly obese patients before and after surgery.
The LLUMC Metabolic and Bariatric Surgery Program meets all criteria as a Level 2 Center according to quality standards established by American College of Surgeons Bariatric Surgery Center Network (BSCN), and has demonstrated a "commitment to delivering the highest quality care for its bariatric surgery patients," the ACS said.
"Receiving ACS accreditation is a reflection of the quality outcomes and patient care provided by our Bariatric Surgery Team," LLUMC CEO Ruthita J. Fike said. "Weight loss surgery, as a part of our complete weight loss program, is a vital procedure to offer our community as we lead the way in health and wellness."
"This accreditation is an affirmation of the comprehensive care we provide for our Bariatric Surgery patients," said Dr. Keith Scharf, Medical Director, LLUMC Metabolic and Bariatric Surgery Program.
LLUMC offers the most comprehensive range of weight loss surgery options in the Inland Empire, including: adjustable gastric banding, laparoscopic gastric bypass, robotic-assisted laparoscopic gastric bypass, laparoscopic gastric sleeve surgery, as well as minimally invasive and endoluminal revision surgery.
About 15 million people suffer from severe obesity in the United States, and the number continues to rise. Obesity increases the risks for illness and death and is commonly associated with chronic diseases such as type-2 diabetes, hypertension, and heart disease.
For more information about the LLUMC Metabolic and Bariatric Surgery Program, visit the website at: http://www.lomalindaweightloss.org
Photo Caption: The Loma Linda University Metabolic and Bariatric Surgery team is committed to providing the best care for their patients' health and wellbeing. The program recently received accreditation as a Level 2 center by the American College of Surgeons.
About Loma Linda University Health (LLUH)
Loma Linda University Health includes Loma Linda University's eight professional schools, Loma Linda University Medical Center's six hospitals and more than 900 faculty physicians located in the Inland Empire of Southern California. Established in 1905, LLUH is a global leader in education, research and clinical care. It offers over 100 academic programs and provides quality health care to 40,000 inpatients and 1.5 million outpatients each year. A Seventh-day Adventist organization, LLUH is a faith-based health system with a mission "to continue the teaching and healing ministry of Jesus Christ."