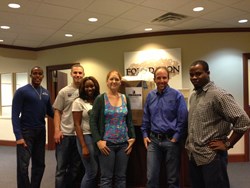 Foundation Financial Group really came together to improve the quality of life for those in need. I hope our donations help keep people warm this winter.
Raleigh, North Carolina (PRWEB) October 15, 2013
Foundation Financial Group announced the conclusion of its donation drive for Goodwill, an organization that accepts gently used or new items for resale to fund career service programs. Foundation Financial employees collected warm clothing at FFG's Raleigh Regional Sales Center, located at 701 Exposition Place #202.
To encourage employee participation, fliers were posted and emails were sent to announce the clothing drive. An empty box was placed inside the office on the first day of the drive. Employees started bringing in donations, and the box quickly overflowed with clothes. In one week, Team FFG filled three large boxes with coats, shirts, pants, and shoes.
"Many people think that one small donation cannot impact others, but I disagree," said Jana Young, Foundation Financial Group event coordinator. "I believe that every little bit helps. When I donate something, I have no idea where it will end up. I just hope that the item will help someone in need. I support Goodwill because the donations are sold at affordable prices and the proceeds provide programs that help people find work. Every donation, big or small, made to Goodwill is an opportunity to benefit our community."
Goodwill offers customized job training and employment placement to people who have disabilities, lack education or job experience, or face employment challenges. In 2012, Goodwill helped more than 6.7 million people train for careers in industries such as banking, information technology, and health care. Goodwill works to enhance the dignity and quality of life for individuals and families by strengthening communities, eliminating workforce barriers, and helping people reach their full potential through learning and the power of work.
"This drive was a great way to bring everyone together for a worthwhile cause," continued Young, who was excited to organize the event. "My mother taught me at an early age to give back to the community when I can, and I am so fortunate to work for a company that encourages community involvement. Foundation Financial Group really came together to improve the quality of life for those in need. I hope our donations help keep people warm this winter."
About Foundation Financial Group
Foundation Financial Group is a multibillion dollar financial services corporation. FFG offers its customers Best in Class service through its Insurance, Retirement, and Mortgage Services. Named one of the fastest growing financial companies in the country by INC magazine for the third year running, FFG has continued to grow its nationwide presence with over 100,000 new customers per year in 39 states. In addition to the value that Foundation Financial provides every customer, it is also dedicated to its communities and the people who live in them. Through a vast array of philanthropic endeavors, the company not only provides significant monetary donations but also fosters a workforce environment that encourages all team members to personally make a difference. Foundation Financial is committed to its strong focus on customer service and community investment as it continues to grow and compete with the largest financial institutions in the world.
Foundation Financial Group reviews all public relations inquiries. For additional information, interview and image requests, contact the Foundation Financial Group Public Relations Team.