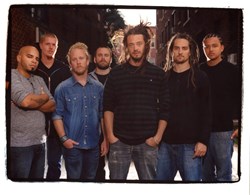 Napa, CA (PRWEB) October 14, 2013
Mention folk music to the average listener and the list of usual suspects come to mind: Bob Dylan, Joni Mitchell, Woody Guthrie, etc. Talk to SOJA lead singer/guitarist Jacob Hemphill, however, and you'll walk away with a different perspective. "To me, Rage Against The Machine, Wu-Tang Clan, Sade, Johnny Cash, Bob Marley – they're all folk artists," he says. "There's no difference between Raekwon saying, 'I grew up on the crime side, the New York Times side, where staying alive was no jive,' to Bob Marley saying, 'Cold ground was my bed last night and rock was my pillow, too,' to Johnny Cash saying, 'I know I had it coming, I know I can't be free, but those people keep on moving (around) and that's what tortures me.' Folk is all about storytelling and passing on a legacy. It's timeless, it's limitless and it crosses all boundaries. That's what this band is striving for. It's a tall order," he laughs, "but we're making our way."
Hemphill says the band's simple and honest approach to music is what's enabled them to break through obstacles of language, distance and culture in amassing an international following. "What's the alternative – pop music?" he laughs. "Pop music—especially American pop music, is about having money, sleeping with models, living in mansions, spending all of our time in clubs and generally being better than the rest of the world. It's funny, 'cuz everyone here is broke. We sing about different things—things that actually matter. I think our fans appreciate that."
"When I look out in the audience and I see these kids with tears in their eyes, not because I'm singing a love song, but because I'm singing about how the world is dying and we're the only ones who can stop it that is huge. I live for that. We played a festival in Brazil in front of 80,000 people, and everybody was singing every word—in English. After one of the songs, I told them, We're on the road a lot, and people always ask me, 'Don't you ever get homesick? Don't you miss your family?' I said, 'It took me awhile to realize this, but this is my home, and you all are my family.' The place just blew up. It was amazing. But it's the truth—those are my people and I always want to do right by them. It's is the only game in town for me."
Tickets for SOJA are $30. They are on sale now and can be purchased through the theatre website at http://www.uptowntheatrenapa.com, at Ticketmaster (http://www.ticketmaster.com) or at the theatre box office (please call 707.259.0123 ext. 6 for hours). To find out more, please visit http://www.uptowntheatrenapa.com.
The Uptown Theatre Napa is downtown's ultimate destination for live concerts. Nestled in the famed West End district, this stunningly restored art deco masterpiece showcases only the finest acts, featuring music, comedy and more. An historic landmark, the Uptown offers a phenomenal, intimate live show experience, with excellent site lines and world class sound and lighting. As concert venues go, this is the place to be. Every seat is a great seat so buy concert tickets now.