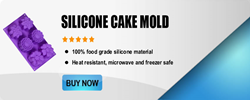 (PRWEB) October 15, 2013
TOGOHK.com, the well-known silicone mold manufacturer, has recently announced custom silicone molds are available on its website. Chocolate molds can be made according to customers' requirements.
TOGOHK.com is a pioneer in the silicone application industry. The company aims to expand the global market, and insists on producing high quality items and offering perfect customer service.
The CEO of the company says, "People now can order custom chocolate molds at our website. Now, each customer can get a discount before November 15, 2013. We have many frequent callers, who like our products very much."
"We are now happy to launch the promotion to meet the various demands of customers from different parts of the world." He adds, "We pay much attention to product quality and customer service. Don't hesitate to contact us if you have any question. We are always ready to help you."
About TOGOHK.com
Founded in 2003, TOGOHK has developed into a modern company that offers its customers worldwide a one-stop silicone product solution from conception to delivery. Its products include silicone cases, silicone kitchen utensils, silicone bracelets, silicone tubes, silicone seals and others. With high technology engineering and advanced CAD and CAM, the company has been serving more than 3000 clients from more than 70 countries.
For more information about the business, please visit their website at:
http://www.togohk.com/?gallery=silicone-chocolate-mould