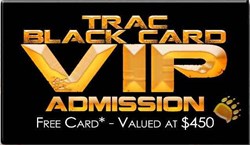 World Wide Trips of a Lifetime
Billings, Montana (PRWEB) October 16, 2013
TRAC Energy Expo is a high touch, energy event hosted in Billings, Montana, November 5th through the 7th with a primary focus on the Bakken Oil Field companies. TRAC 2013 delivers an innovative platform to connect producers, operators, developers, and oil & gas service companies in a pro B2B energy environment. Building on its 2013 theme of "Power through Connection", the TRAC planning team has partnered with Cabela's and Expo exhibitors to offer a twist to the typical, boring "guest pass".
Cabela's, with its unique ability to provide an extensive and effective B2B solution to the companies operating in the Bakken; joins the TRAC Energy Expo - 2013 with this one of a kind offering - the TRAC VIP "Black Pass". The TRAC VIP guest pass invites Bakken Oil Field producers, operators, and developers to redeem the guest pass, attend the expo, and participate in an opportunity to win a $15,000 Cabela's "Outdoor Adventures" giveaway. Joining forces in this unique promotion gives oil and gas companies a chance to win an adventure of a lifetime at the TRAC Energy Expo.
Cabela's, the world's most renowned outfitter, is also legendary when it comes to being a corporate outfitter. Cabela's not only specializes in outdoor gear, but also a substantial B2B program that can help power and promote your company wherever you go, whether it be that next well site near Tioga, North Dakota, a business meeting in Houston, Texas, or a world-class hunting trip to the Serengeti.
Due to Cabela's capacity to deliver an extensive and effective B2B solution, the TRAC Team has chosen Cabela's for this collaborative VIP "Black Pass" opportunity at TRAC 2013. With Cabela's "Outdoor Adventures", you and your business partners are just a call away from the trip of a lifetime. Using the top trusted brand in the outdoors industry, companies can expect a well-planned and hassle free experience that features premier services from start to finish. Cabela's is there to help with lodging, itineraries, equipment, providing the best outfitter & lodge experiences available, and much more. Additionally, companies can never expect to pay extra when booking a trip through the Cabela's program!
Cabela's can further energize a company's Bakken B2B needs with gift cards for incentives and promotions, business gifts, employee outfitting, customization services, and exciting outdoor adventures around the globe! And, no matter how big or small your company, Cabela's has flexible discounts and merchandising programs to help make that special connection with business partners.