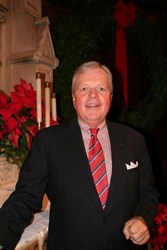 I hold Springbrook very close to my heart, as it has enriched the lives of so many individuals. . .
Oneonta, NY (PRWEB) October 17, 2013
Springbrook, a provider of compassionate support services for special needs people of all ages, is pleased to announce the selection of Thomas O. Maggs, President and owner of the globally-known Schenectady insurance brokerage, Maggs and Associates, as the new President of the organization's Board of Directors. Springbrook would also like to welcome its newest member of the board, Joe R. Middleton, Vice President at the Leatherstocking Corporation, in Cooperstown, NY.
At its first board meeting of the 2013-14 fiscal year, the Springbrook board appointed Thomas O. Maggs as President of the governing group. He takes the place of Reverend William Carlsen, who served as board President from September 2010-2013. As a person who is tirelessly committed to helping people realize their full potential, Maggs has served on numerous boards across the nation, including those affiliated with corporate, financial, academic, health-related, and religious organizations, as well as several foundation boards. He is a Commissioner with the New York State Office of Parks, Recreation, and Historic Preservation and was appointed by President Ronald Reagan as a member of the Commission for the Restoration of the Statue of Liberty. Always remaining focused on quality-of-life and happiness for both the individuals who Springbrook serves as well as its staff, Maggs has been an indispensable member of the Springbrook board since 2006. While President of the Springbrook Board of Directors, Maggs will provide strategic guidance to New York's leading service and support provider for children and adults with developmental disabilities. He says of his new title: "I hold Springbrook very close to my heart, as it has enriched the lives of so many individuals, and I am honored to be the new President of the board at such an outstanding and influential organization. The best is yet to come."
Springbrook also welcomes its newest member of the board, Joe R. Middleton. Having been involved with Springbrook since the early 1990's, Middleton has played a role in some of the organization's larger projects. Within the community, he is a prominent and experienced contributor to the field of corporate facilities planning and management. Middleton's professional and personal history involves everything from the organization of a large-scale disaster-relief effort to the implementation of safety and hazard prevention in the corporate sector, making him a welcome addition to a board that is focused on the safety and well being of the individuals and staff at Springbrook. "It is exciting to see an organization in the healthcare industry really put the 'care' in healthcare . . . I was flattered to be considered for membership on the Springbrook board, knowing that I would be joining a high-performing team of leaders and board members with a focus on serving the community," says Middleton.
Finally, Springbrook would like to congratulate several of its current board members in their re-elections: Dr. John Anderson, Rev. William Carlsen, Rev. Randolph Palada, Rev. Ray Schooler, Dr. Peter van der Riet, and Ann Wynne. Springbrook welcomes these board members back for another term, thanks to their dedication, teamwork, and ability to always think of how to best serve every aspect of the organization's needs.
Springbrook's board is integral to the organization's decision-making process. Patricia Kennedy, Springbrook's CEO, works closely with the group to help guide Springbrook's strategic goals, marketing and development objectives, facilities and program growth, and overall operations. She says of these recent changes to the board, "I am excited to see that Tom is the new President. I know that he will continue to be an asset to our organization, as he has been in past years. Joe has been dedicated to Springbrook's cause for many years and has historically had much to offer. I am also delighted to know that many of our current board members have been re-elected and I have every confidence that Joe and our other board members will carry on the tradition of leadership and commitment that makes the Springbrook Board of Directors so unique."
Springbrook is the leader for at-home care, residential and educational services, day services, and clinical, therapeutic, and behavioral supports to over 850 people with developmental disabilities from across New York State. The organization is Otsego County's third largest employer with over 1,100 employees.
###