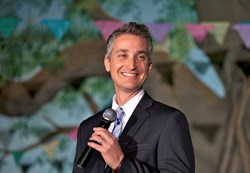 'Private higher education has been going through tough times,' say Greenberg. 'CAPPS members are passionate about their work, but they're also under tremendous stress.'
Pasadena, CA (PRWEB) October 16, 2013
The California Association of Postsecondary Private Schools (CAPPS) recently hosted motivational speaker Scott Greenberg to give the opening keynote to members at their annual meeting at the Langhman Huntington Hotel in Pasadena, CA. The event was attended by 200 private postsecondary school owners and managers
Greenberg's presentation was entitled, "Survival of the Finest: Thriving During Times of Change and Adversity." The speech focused on ways to adapt to change while staying committed to providing high quality education programs.
The private postsecondary education sector has been hit hard by the economy over the last few years, which has impacted schools' ability to recruit students and provide job placement after graduation. These institutions must also comply with thousands of regulations imposed by multiple agencies who oversee and certify for-profit schools.
"Private higher education has been going through tough times," say Greenberg. "CAPPS members are passionate about their work, but they're also under tremendous stress." Greenberg's program provided ideas for resilience and stress management. He also discussed the importance of focusing on service to students.
CAPPS serves its 300 member schools by providing legislative representation, PAC fundraising and events, resources and training. Each year they host a three-day conference for membership.
About Scott Greenberg
Scott Greenberg is a motivational speaker specializing in resilience, leadership and peak performance. His personal battle with cancer and inspiration from his "Schindler's List" holocaust surviving Grandmother are the basis for some of his motivational stories. Since 1993, Scott has spoken to a variety of organizations looking to improve their leadership and work environment. Clients include Nike, The Wyndham Hotel Group, Cargill International, the United Nations and the U.S. Air Force. Scott has written three books on leadership and is a contributing author to "Chicken Soup for the College Soul." In addition to 20 years in professional speaking, Greenberg is also an award-winning franchisee with Edible Arrangements. For more information about Scott Greenberg, visit http://www.scottgreenberg.com or call 1-800-450-0432 (or outside the U.S. 1-818-785-5202).