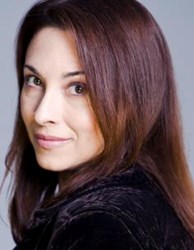 "STRINGS is a journey of finding our souls through love."
Los Angeles, CA (PRWEB) October 17, 2013
Gina Nemo is a well known poet, singer, songwriter, actress, speaker, producer and daughter of the late great Jazz composer Henry Nemo. "Strings" is her first collection of poetry that is being released worldwide by Melinda Cochrane International on November 5th, 2013.
Writing poetry and music since she was a child, Gina has been writing, singing and producing albums since the early 90's and recently started writing poetry again in the past few years. "Strings is a journey of finding our souls through love," she says.
Readers of her work from all over the world and followers of her music and poetry are anticipating this first release. Poems from this book will be read on radio station CRY104FM in Youghal, Ireland by host Paddy Lane. His quote describes Gina's poetry in this book best especially when it comes to the poem "Strings." "This poem covers a lifetime, a journey, of love, loss, and love again. It would take an eternity to express all that it conjured up in my mind. I was on that ' dusty country road ', as I listened. Awesome ending: " bury the treasure map ", " time always waits for true love."
Pursuing a career as an actress and performer took most of her time in her earlier years and eventually she received an international award for her role in the hit television show "21 Jump Street" (which was presented by Bob Hope) many years ago on Canadian TV. She was also featured in various television shows and films in the 80's and 90's.
Currently she is focusing on her poetry, writing, music and projects that she is producing. You can see updates on her website http://www.ginanemo.com and for information on the book, please go to http://www.melindacochrane.com/writer-gina-nemo.html.
Melinda Cochrane International, a company for women, and about women.