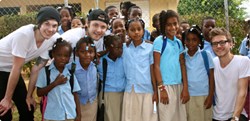 "Food for the Hungry fall tours …brings a time to launch new stories and ideas about FH's work – sharing this information with floods of audience members across the nation."
Phoenix, AZ (PRWEB) October 16, 2013
Christian bands like Audio Adrenaline, Leeland, and The Digital Age are making concert stops throughout the United States to benefit vulnerable children through Food for the Hungry (FH) child sponsorship. The Fall 2013 tours launched in September and will continue through the month of October, until December 6, offering audiences opportunities to help vulnerable, impoverished children worldwide.
"Food for the Hungry fall tours …brings a time to launch new stories and ideas about FH's work – sharing this information with floods of audience members across the nation," says Bronwen Dunn, FH Artist Program Coordinator. "With stories of FH's work…audiences learn how they can make an impact, this instigates change."
There are currently 16,724 children living in 16 countries waiting for sponsors. Through child sponsorship, impoverished children receive better education, clean water, nutritious food and most important—learn that Christ loves them. With more than 1 billion children living in poverty worldwide, helping these children is crucial to ending suffering in our world.
Tours include cities from Jupiter, Fla., to Grand Forks, N.D., as bands reach thousands of people mixing great music with a chance to help end poverty around the world. FH lists specific tour dates at http://fh.org/get-involved/artist-program/volunteer.
---
Founded in 1971, Food for the Hungry provides emergency relief and long-term development programs with operations in more than 20 countries to help the world's most vulnerable people. Learn more by visiting http://www.fh.org. Social connections include http://www.facebook.com/foodforthehungry and http://www.twitter.com/food4thehungry.