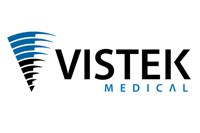 Our re-branding initiative and new corporate messaging is reflective of the evolution our organization is experiencing by delivering leading contract manufacturing solutions to medical implant and device manufacturers
Ivyland, PA (PRWEB) October 16, 2013
Vistek Medical, a leading medical device contract manufacturer of implants and components, has completed their corporate re-branding initiative.
The re-branding activities included a brand audit, new messaging, logo, website, and sales support tools. The re-branding initiative was driven by Vistek's Marketing department in collaboration with Portsmouth, NH-based Harbour Light Strategic Marketing.
"Our re-branding initiative and new corporate messaging is reflective of the evolution our organization is experiencing by delivering leading contract manufacturing solutions to medical implant and device manufacturers," says John Ducaji, Vistek's Director of Sales and Business Development. "We continue to distinguish ourselves in a crowded competitive field and will continue to pursue avenues to get our success story out."
About Vistek Medical
Based in Ivyland, PA, Vistek Medical is a leading contract manufacturer of medical implants and components focused on the Orthopedic, Spinal, Trauma, and Extremity markets. Vistek Medical provides material procurement, swiss turning, milling, testing, finishing, device assembly, and shipping services to its customers. Vistek Medical is FDA registered as well as ISO 13485 and ISO 9001 certified. For more information, visit http://www.vistekmedical.com or call 215-357-6956.