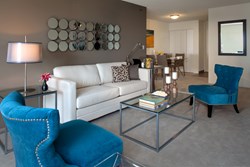 Boston, MA (PRWEB) October 16, 2013
Furnished Quarters, the largest provider of temporary furnished apartments in Boston and New York City, today announced that it is redesigning all of its apartments in the Boston area, with completion expected by Spring 2014. The company has redesigned 50% of its Boston apartments to date.
In its effort to provide the most current furnishings and innovative looks, Furnished Quarters continually refreshes the design of its proprietary residence portfolio. The updated design has just been completed for all of Furnished Quarters' apartments in its Devonshire and Church Park properties. The décor at the Devonshire, located in the heart of Boston's financial district, combines modern and traditional elements to create a warm, home-like feel. At Church Park, located in Back Bay, Boston's fine arts and cultural district, blues, browns and beiges provide an atmosphere of casual elegance with contemporary flair.
The redesigns were created by Furnished Quarters' in-house design studio—a unique department for a corporate housing company. By keeping the design function in-house, the company's designers stay in tune with what today's travelers prefer and require for a memorable visit, according to Steve Saide, Furnished Quarters' Executive Vice President of Design.
"We reflect local flavor in our apartments and each building is themed differently," said Saide. "Because our design team is 100% in-house, we pay attention to the little things—we're able to remain current for our guests, never stale or outdated, and we never use rental furniture, which is common in corporate housing. We fully furnish our properties with the latest in contemporary and functional design features."
The company currently offers 200 units in Massachusetts throughout Boston, Cambridge, Brookline, Lexington and Waltham. In 2013, the company reported over 90% occupancy of its Massachusetts-based properties.
Furnished Quarters is an independently owned and operated provider of stylishly designed and fully equipped temporary furnished apartment rentals, both nationally and globally, and the largest provider of temporary furnished housing in New York City and Boston. Furnished Quarters also provides a diverse portfolio of temporary furnished apartments in New Jersey, White Plains, and Connecticut. Established in 1998, Furnished Quarters is a founding member of GO Furnished Housing Providers, a consortium of best-in-class temporary housing companies offering one-call access to apartments worldwide. For more information visit http://www.furnishedquarters.com.
Contact:
Robin Spindel
Phone: (212) 367-9400 ext. 4333
Email: Robin.Spindel(at)furnishedquarters(dot)com