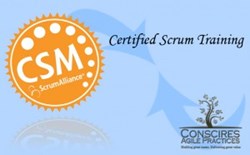 CSM Training
Denver, CO (PRWEB) October 19, 2013
Agenda :
At this workshop, we will start with learning Agile Principles. The class will get hands-on experience with Scrum as they produce a few increments of a product. As we work through that exercise, we will create user stories, estimate them, and plan releases & sprints.
Agile Principles and Values
Scrum - the Framework and Scrum Values
What is It to Be Like Working Within the Scrum Framework

Scrum Master
Product Owner
The Team
What would a Project Manager do? (and other roles in the organization)
Product Backlog
Meetings: Sprint Planning, Daily Scrum, Sprint Review, Sprint Retrospective
Continually Improving With Retrospectives.
User Stories and Other Requirement Techniques
Agile Estimation Techniques
Planning and Monitoring
Burn-Down/Burn-Up Charts
Additional Topics Covered Based On the Need of the Class:
Co-Located and Geographically Distributed Teams
Scaling with Scrum
Managing Quality
Adopting Scrum in your organization
Value-based prioritization
Risk Management
Metrics
Value Stream Analysis
Building Empowered Teams
Practice Examination and More
For registration, click on link: http://agile.conscires.com/certified-scrummaster-csm-training-in-denver-nov/.