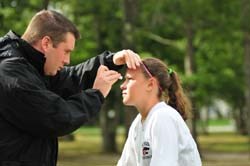 This study highlights some of the issues that continue to affect our high school athletes. We need to address this problem from every possible angle and work together to create change. John Furtado, ATSNJ President
Wayne, NJ (PRWEB) October 17, 2013
The Athletic Trainers' Society of New Jersey (ATSNJ) has recently completed a 3 year (2010-2012) online Fall concussion survey involving secondary school Athletic Trainers (ATs). The goal of this study was to examine the incidence of concussions in fall athletics at secondary schools in the state of New Jersey. The 3 year study involved 86 High School Athletic Trainers participating each year; 80/86 schools reporting had football as a Fall sport. Throughout the course of the study there were 3,161 concussions reported (avg. 1053.67 reported concussions per year). According to the study, football had the highest reported incidence of concussions at 57% followed by girls soccer at 18% and boys soccer at 14%, Cheering 6%, Field Hockey 4% and Gymnastics 1%.
Football:
Football, reported a total of 1,708 concussions over the 3 years of the survey for an average of 569 per year. The yearly totals were consistent and did not note a rise in the incidence of concussion during the survey period. There was an average of 7.1 concussions per school per year. (range 1-24) Of the concussions reported, 24% of athletes reported having symptoms lasting longer than 2 weeks. 6.7% of the athletes reported repeat concussions in the same season. The incidence of concussion was slightly higher in games (51%) and significantly higher among sub-varsity level athletes (62% vs 38%). Offensive players more frequently suffered concussions than defensive or special team players (55% vs 37% vs 8%) Offensive Linemen reported the most concussions (21%) and when combined with defensive linemen accounted for 37% of all concussions reported in football.
The most common mechanism of concussion in football was head to head contact (82%). Of the concussions that occurred in games due to head to head to head contact, only 3/278 reported concussions resulted in a formal penalty.
The study also explored preventative measures that were being implemented to decrease the incidence of concussions. Only 53% of school reported doing some form of regular neck strengthening exercises with their football team. 57% of schools rely on coaches to fit their equipment and weekly helmet inspections for fit and wear were routinely done by only 35% of football programs.
Girls Soccer:
Girls Soccer ranked second highest for concussion incidence. The most common mechanism was head to head contact 34%, contact with the ball accounted for 16%, contact with another body part accounted for 14%, and contact with the ground accounted for 13% of reported concussions in girls soccer. 77% of concussions occurred during games, with 57% occurring to varsity athletes. 8/153 concussions that occurred in games resulted in a penalty.
Boys Soccer:
Boys soccer ranked third in incidence of concussion in the Fall survey. The most common mechanism in boys soccer was head to head contact 41%, Head to body 16%, Head to ground 11%, and Ball to head 7%. The incidence for concussion was greatest among varsity players (68%) and in games with an 88% occurrence rate. 3/101 concussion that were suffered during games resulted in formal penalties.
Comment:
ATSNJ President John Furtado notes that "this study highlights some of the issues that continue to affect our high school athletes. We need to address this problem from every possible angle and work together to create change. Despite all the publicity there are still too many concussions in secondary school sports. The ATSNJ continues to lead the discussion of sports safety in the state of New Jersey."
The ATSNJ is currently working on recommendations for reducing the incidence of concussion and hopes to release them to the public in the near future. For more information on concussion and concussion care, please visit http://www.atsnj.org.