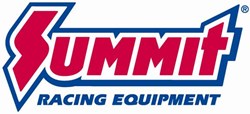 Tallmadge, OH (PRWEB) October 21, 2013
Camaro owners can improve their engine's breathing and maximize power transfer to the rear wheels with these new products from Summit Racing.
CAI AIR INTAKE SYSTEMS
Cold Air Inductions (CAI) air intake systems designed to feed the engine as much cool, power-building air as possible. The systems feature aluminum, ceramic-coated intake tubes that are lighter and won't absorb heat like plastic tubes. CAI air Intake Systems are available for V6 and V8 Camaro.
ACT TWIN DISC CLUTCH KITS
These clutch kits maximum power transfer from the engine to the rear wheels. The Xtreme Twin Disc Clutch Kits enable quick shifts and hard slips and are recommended for race use only. The Twin Disc Maxx Xtreme Clutch Kits wear better and have improved heat capacity for longer life, and operate smoothly even at high RPMs. And the Heavy-Duty Twin Disc Clutch Kits can handle the stresses of high horsepower race engines.
Summit Racing Equipment
http://www.SummitRacing.com
1-800-230-3030