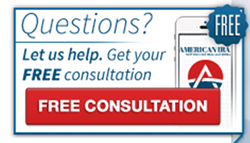 This video covers the details of the new SEC Rule 406(c) including important information that self-directed IRA private capital investors need to know.
Charlotte, NC (PRWEB) October 17, 2013
Jim Hitt, CEO of American IRA, is sharing this video with all self-directed IRA private capital investors and others that are concerned about what the new rule means to them.
The new SEC Rule 506(c) of Regulation D became effective on September 23, 2013. In this video, law partners Kim Lisa Taylor, Esq. and Gene Trowbridge, Esq., CCIM discuss the new Rule, the proposed amendment that will add more restrictions to the ability to advertise and their opinion of how this will effect real estate syndications going forward.
Tune in to hear the complete conversation by clicking on the video within this press release or by clicking here to watch it on YouTube.
Gene Trowbridge, Esq., CCIM, is a practitioner and an attorney whose firm limits itself to matters concerning the syndication of commercial and investment real estate. Trowbridge & Taylor serves clients in all 50 states from its California and Florida offices. Law firm partner, Kim Lisa Taylor, Esq., heads the Florida office and also represents a national clientele. Kim has additional background as a real estate broker, property investor and property management expert.
About:
American IRA, LLC was established in 2004 by James C. Hitt in Asheville, NC.
The mission of American IRA is to provide the highest level of customer service in the self-directed retirement industry. Mr. Hitt and his team have grown the company to over $250 million in assets under administration by educating the public that their self-directed IRA account can invest in a variety of assets such as real estate, private lending, limited liability companies, precious metals and much more!
As a self-directed IRA administrator they are a neutral third party. They do not make any recommendations to any person or entity associated with investments of any type (including financial representatives, investment promoters or companies, or employees, agents or representatives associated with these firms). They are not responsible for and are not bound by any statements, representations, warranties or agreements made by any such person or entity and do not provide any recommendation on the quality profitability or reputability of any investment, individual or company. The term "they" refers to American IRA, located in Asheville, NC and Charlotte, NC.