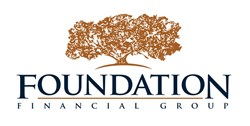 FFG Marketing believes in the power of social media and strives to use popular platforms in ways that engage and inspire.
Jacksonville, Florida (PRWEB) October 17, 2013
Foundation Financial Group has received a BizTech Innovation Award for Best Use of Social Media. The financial services corporation has been actively engaged in social media for several years, and continues to refine its social media strategy.
"Winning a BizTech Innovation Award is a powerful affirmation that Foundation Financial Group is leveraging social media successfully," said Jessica Gueterman, vice president of marketing. "I am incredibly proud of the hard work and creativity that my team has put forth to earn this recognition. FFG Marketing believes in the power of social media and strives to use popular platforms in ways that engage and inspire."
Foundation Financial Group began its foray into social media with Facebook. Then, as the corporation developed its Marketing Division, social media became a prominent focus. Foundation Financial began using Twitter, LinkedIn, and Google +. FFG Marketing recently expanded its social media repertoire to include Pinterest as well.
"Social media is more complex than most businesses realize," continued Gueterman. "Every social media site has its own style and specific way of communicating. So the challenge is to convey a message across each platform in a manner that followers, friends, or connections will find relevant and interesting. At Foundation Financial Group, we use social media to showcase our heart, share information, and spread a little laughter."
This is the first year that the Jacksonville Business Journal has presented BizTech Innovation Awards. These awards were established to identify and acknowledge Jacksonville businesses and professionals for developing, employing, and utilizing technology in creative and effective ways. Winners demonstrated strong records of innovation, outstanding performance, and significant accomplishments within the selected category. BizTech Innovation Award categories included: IT Dream Team, Best Website for Generating Business and Leads, Best Use of Social Media, Best Collaboration, and Best Use of Cloud Computing.
About Foundation Financial Group
Foundation Financial Group is a multibillion dollar financial services corporation. FFG offers its customers Best in Class service through its Insurance, Retirement, and Mortgage Services. Named one of the fastest growing financial companies in the country by INC magazine for the third year running, FFG has continued to grow its nationwide presence with over 100,000 new customers per year in 39 states. In addition to the value that Foundation Financial provides every customer, it is also dedicated to its communities and the people who live in them. Through a vast array of philanthropic endeavors, the company not only provides significant monetary donations but also fosters a workforce environment that encourages all team members to personally make a difference. Foundation Financial is committed to its strong focus on customer service and community investment as it continues to grow and compete with the largest financial institutions in the world.
Foundation Financial Group reviews all public relations inquiries. For additional information, interview and image requests, contact the Foundation Financial Group Public Relations Team.