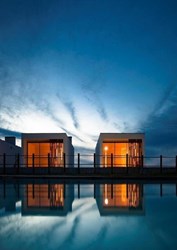 Phoenix, Arizona (PRWEB) October 16, 2013
The development of Machede Estate Hotel & SPA, consists of a four star hotel with a capacity of 56 rooms, a spa and 20 villas with 2 and 3 bedrooms. Situated along the shore of the reservoir dam Montemor-o-Novo, more specifically in Our Lady of Machede, Évora, the project enjoys an unparalleled view of the water and insertion into nature not found in any other resort development. The hotel development is currently 90% complete and is slated to finish construction and open in 2014.
This will be the only hotel in the market offering 4 Star accommodations with very close proximity to Evora. Due to its well-preserved old town centre, still partially enclosed by medieval walls, and a large number of monuments dating from various historical periods, including a Roman Temple, Évora is a UNESCO World Heritage Site. It is also a member of the Most Ancient European Towns Network. Portugal is among the 20 most visited countries in the world, receiving an average of 13 million foreign tourists each year, and over 1 Million visit the Evora area annually.
"We are very excited to work with the developers on completing this project and finding the right International hotel firm to work with us on branding and marketing", stated Edwin W. Leslie, President & CEO of Leslie Hospitality Consulting. This project was designed and developed by one of Portugal's star football players Mr. Vitor Baia. In 2004 Baía founded a charity with his wife, Alexandra Rodrigues de Almeida, which would bear his own name and would be dedicated to helping underprivileged children and troubled teens.
Leslie Hospitality Consulting, LLC is based in Phoenix, Arizona and is engaged as the asset manager and financial advisor to a number of 4 and 5 Star hotel and resort developments both in the US and Internationally. In 2013 Leslie Hospitality Consulting was named as a member of the United Nations World Tourism Council, and is one of only 13 companies or agencies in the US serving in this capacity.