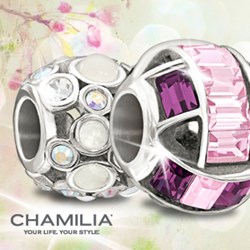 Chamilia enthusiasts will especially love the new limited edition snowman bead.
New York, NY (PRWEB) October 17, 2013
With the holiday season fast approaching, A Silver Breeze is excited to offer its customers the new Chamilia Q4 Holiday products. The products are composed of high quality sterling silver charms, necklaces and earrings accentuating all the sparkle and flare of the holiday season.
The new charms are featured in the festive forms of a pumpkin, a gingerbread man, a peace dove, Santa Claus, snowflakes and more. The Holiday charms also include an array of sparkling fall colored beads, accented with mosaic-patterned Swarovski crystals in green, orange, red and brown hues. The new beads are priced starting at USD$40.00, and are available for pre-order.
The Holiday products also include new toggle and bangle bracelets, an elegant tie drop necklace and teardrop earrings that can be personalized with Chamilia beads. These items are priced starting at USD$50.00.
Chamilia enthusiasts will especially love the new limited edition snowman bead. Detailed with clear and colored Swarovski crystals, the snowman bead also features a 2013 stamp on it, making it an even more special collector's item. The limited edition snowman bead is valued at USD $65.00 and is now available for online ordering, while supplies last.
For more information and to purchase products, please visit A Silver Breeze in store or online at: http://www.asilverbreeze.com.
About A Silver Breeze
A Silver Breeze was founded with a philosophy in mind: give women the freedom to be themselves and embrace a sense of style that's unique to each woman. A Silver Breeze offers women quality sterling silver jewelry that is interchangeable, from brands like Kameleon, Chamilia, Bella Ryann and Lenny & Eva. You will also find gifts and other accessories from brands like Natural Life, WeWOOD and Bering Watches.
Stores are located at the Aviation Mall in Queensbury, New York and at 516 Broadway in Saratoga Springs, New York. All available collections can also be purchased at the A Silver Breeze online store at: http://www.asilverbreeze.com. A Silver Breeze ensures every customer's shopping experience will be an unforgettable one.